In early March of 2020, PSAC young workers travelled to the Highlands of Guatemala to take part on the 13th Education-In-Action delegation, an annual project led by PSAC's Social Justice Fund in collaboration with the solidarity organization Education In Action. Now that our delegation is back, our members are sharing their five stories from the frontlines of Guatemala. 
Background
Each year since 2007, PSAC Social Justice Fund (SJF) as part of its Worker Education program has supported an annual delegation to Guatemala, known as the Education-In-Action delegation (EIA), to work with and learn from grass roots organizations empowering communities.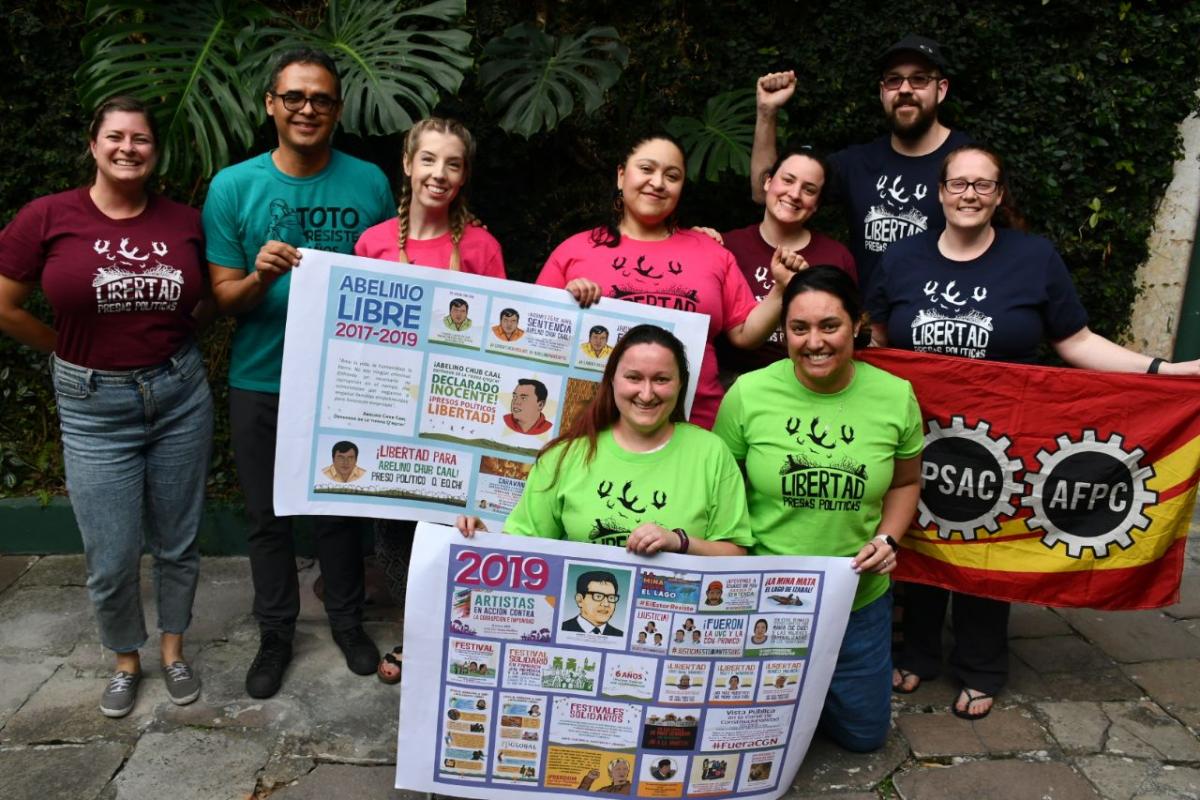 The goals of the program are to engage and educate PSAC members through action, deepen their understanding of Guatemala and to build solidarity with Mayan communities, in particular with the Campesino Committee of the Highlands of Guatemala (CCDA), and organisations that are protecting the human rights of Indigenous peoples, women, workers and land defenders in Guatemala.
The solidarity that has been built between PSAC members and partner organizations in Guatemala is crucial to understanding the importance of PSAC-SJF work. Since those early days, seventy-three (73) PSAC members from across Canada have volunteered and taken personal time off from their work to join an EIA delegation to Guatemala. Upon returning, most PSAC members continue to advocate for human and labour rights, support social justice initiatives and bring what was learned to the forefront of their union and communities and help amplify PSAC's Social Justice Fund impact. 
The 2020 delegation included workers from British Colombia (Todd Smith, AGR Local 20044), Alberta (Cheryl Jensen, UNDE Local 30907), Saskatchewan (Charito Humphreys, CEIU Local 40811), Ontario (Zaklina Mazur, AGR Local 15), New Brunswick (Whitney McSheffery, UVAE Local 60006) and the Yukon (Frédérique Conradi, YEU Local Y018).
While in Guatemala, the delegation met with Indigenous communities and organizations that are working to obtain justice and respect for Indigenous rights and access to land and the empowerment of women. 
| | |
| --- | --- |
| | Whitney is a member of Union of Veterans' Affairs Employees, and President of Local UVAE 60006 based in Lincoln, New Brunswick |
| | Frédérique is a member of the Yukon Employees Union (YEU), Local Y018 where she has been involved in her local, most recently as Shop Steward. She also serves as Young Workers' Director on the YEU Executive. |
| | Charito is the president of Local 40811 of the Canadian Employment and Immigration Union (CEIU) and the Alternate National Vice-President for CEIU Manitoba/ Saskatchewan Region. |
| | Todd is a member of Agriculture Union, Local AGR 20044 and alternate VP for PSAC BC Region |
| | Cheryl is a member of UNDE Local 30907 and of the District Labour Council based out of Medicine Hat, Alberta |