Over the past few weeks, many parts of Canada have entered the second wave of the pandemic, with cases of COVID-19 rising quickly. Some cities are seeing record numbers of cases, with hospitalizations climbing.  
We need to take action now to flatten the curve before we reach a crisis point this fall. Whether you're working from home or you've never left the workplace, we can all do our part to slow the spread of the coronavirus. 
Many of us will need to make personal sacrifices over the next few months – changing the ways we socialize, cutting back on trips outside our homes and cancelling holiday plans – but the health and safety of our members and the Canadians we serve depends on it. By following the recommendations of public health authorities in your area, we can help prevent outbreaks in our workplaces and communities.  
PSAC urges everyone to follow public health guidelines to limit the spread of COVID-19: 
Don't go to work when you're sick and get tested if you have COVID-like symptoms or believe you've been exposed;
Wash your hands often, and use hand sanitizer whenever possible;  
Stay two metres (six feet) apart from others; 
Wear a mask or face covering where required or when you cannot maintain physical distancing; 
Limit your outings to essential trips to prevent community spread of COVID-19; 
Notify your close contacts if you test positive for COVID-19; 
Download the Government of Canada's COVID Alert app. 
You also have the right to work in a safe and healthy workplace during the pandemic. Your employer must let you know the steps they've taken to minimize the spread of COVID-19, clearly communicate information in the workplace and set a clear policy for what's expected of workers if they get sick, have COVID-19 symptoms or come into contact with someone who does.  
Employers must also do everything possible to protect the health and safety of workers by providing proper training, sanitation and personal protective equipment.  
And as workers, we have a responsibility to keep our colleagues safe and monitor our workplaces for health and safety issues.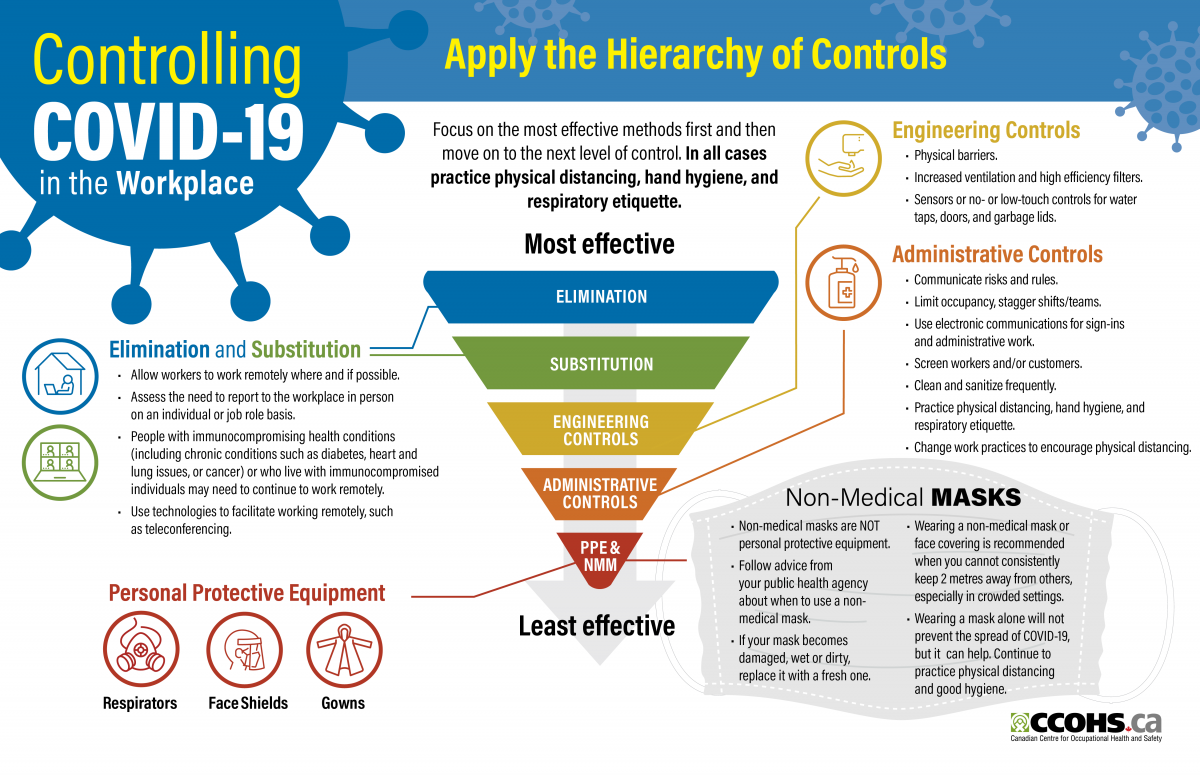 PSAC members should follow the guidelines from the Canadian Centre for Occupational Health and Safety at work:  
Follow control measures to focus on the most effective ways to halt the spread of the virus; 
Follow safe work practices and procedures, and wear any equipment or personal protective equipment required by your employer; 
Wear a non-medical mask or face covering when required;  
Immediately notify your supervisor, health and safety committee or union if you have questions or feel it is unsafe to work; 
Participate in training and risk assessments; 
Be properly trained for work;  
Report early signs and symptoms of COVID-19 to your supervisor; 
Keep a log of the co-workers you interact to simplify contract tracing if you get sick;  
Stretch often and take your breaks; occupational and mental health are just as important to stay healthy.