The Escobal project is a high-grade silver discovery located in southeast Guatemala. In addition to silver, the mine contains sizable reserves of gold, lead, and zinc. Tahoe Resources acquired the project in mid-2010 when the Xinka and farming communities in southeastern Guatemala began their peaceful resistance to the Tahoe Resources Escobal Mine (now owned by Pan American Silver).
In the spring of 2013, local residents' resistance to the Escobal silver mine project led to violent clashes. Fears about pollution and water contamination, and potentially damaging effects to the primarily agricultural way of local life caused many local residents to protest the mine's development but the mine was put into production in 2014, despite widespread opposition
In the years that followed, Tahoe Resources, with Guatemala police and military, used counter-insurgency tactics to surveil, criminalize and violently repress the population in order to impose the mine until 2017 when the Supreme Court ordered the mine's suspension over discrimination and failure to consult with Xinka People. 
In early 2019, Tahoe Resources was bought out by Vancouver-based Pan American Silver, one of the largest Canadian silver-producers in the world. Xinka Peoples have repeatedly called to halt attempts at dialogue outside of the consultation process. Pan American Silver refused to comply. This caused heightened tensions and insecurity for local organizers.
Given the increasing risk to safety, it became necessary to hold the company's feet to the fire in Canada. There was a callout for solidarity and PSAC was invited to participate in a delegation to visit and accompany the Xinka Peoples in peaceful resistance to the Escobal mine.   
By 2019, after a five year legal battle in British Columbia courts, the decision of Pan American Silver to offer a fair settlement to the Guatemalan victims of Tahoe Resources' mining violence in 2013, is a hugely important, small step forward in on-going work and struggle to hold Canadian companies accountable for crimes, harms and violations they cause or are responsible for in other countries. However, this legal victory does not affect the on-going threats and violence to land-defenders who are peacefully protesting the Pan American Silver Mine.   
PSAC and its Social Justice Fund have a long history of supporting Breaking the Silence and MiningWatch, by joining campaigns on corporate accountability, providing financial and political support and sending PSAC members to participate in joint initiatives.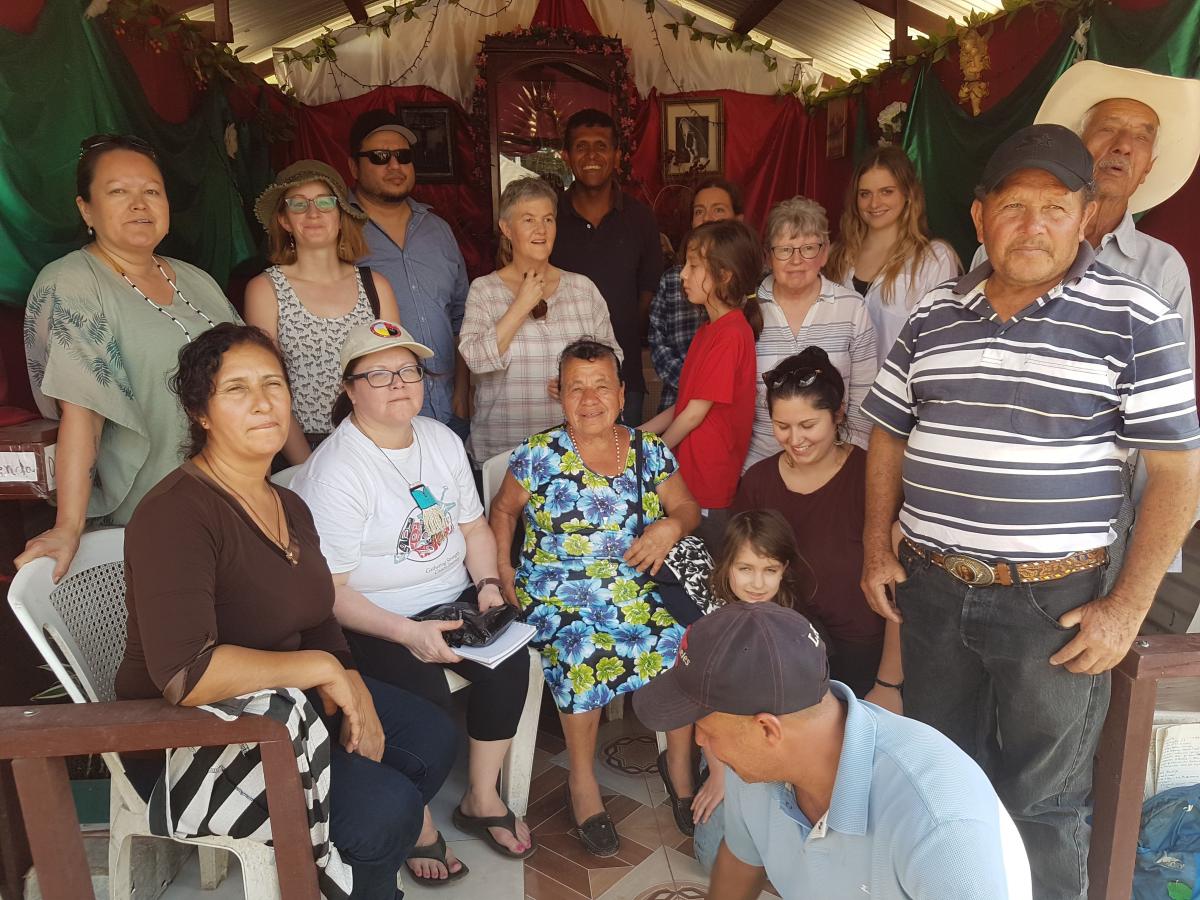 Member story: Peaceful Resistance
In February 2020, PSAC Social Justice Fund joined a delegation in support of the peaceful resistance to the Pan American Silver Escobal Mine, in Guatemala. The group consisted of 10 representatives, including 3 union members, from PSAC, CUPE, the Ironworkers Union.  
Jill MacNeill, representative of PSAC Indigenous Circle was part of the delegation. Here's her story:
It is hard for me to condense what I learned and saw on this trip.  The Xinka educated us on their rights, history, governance structure and current work in collaboration with many allied organizations. We learned from local organizers about the current situation since the mine was suspended. I established connections with MiningWatch Canada, Breaking the Silence Network, Earthworks International and the Institute for Policy Studies in Washington. The individuals from the Tsilhqot'in First Nation in BC also shared their parallel experience with mining companies in their territory. 
I witnessed some beautiful solidary in action by CODIDENA, a faith-based Catholic organization supporting water monitoring for the Xinka by Xinka youth. It assists in educating the communities in relation to the impacts of the Escobal mine. Our delegation hiked mountains where we watched the Xinka youth perform water monitoring; they tested streams for arsenic levels. The testing is done on a regular volunteer basis in conjunction with a US university.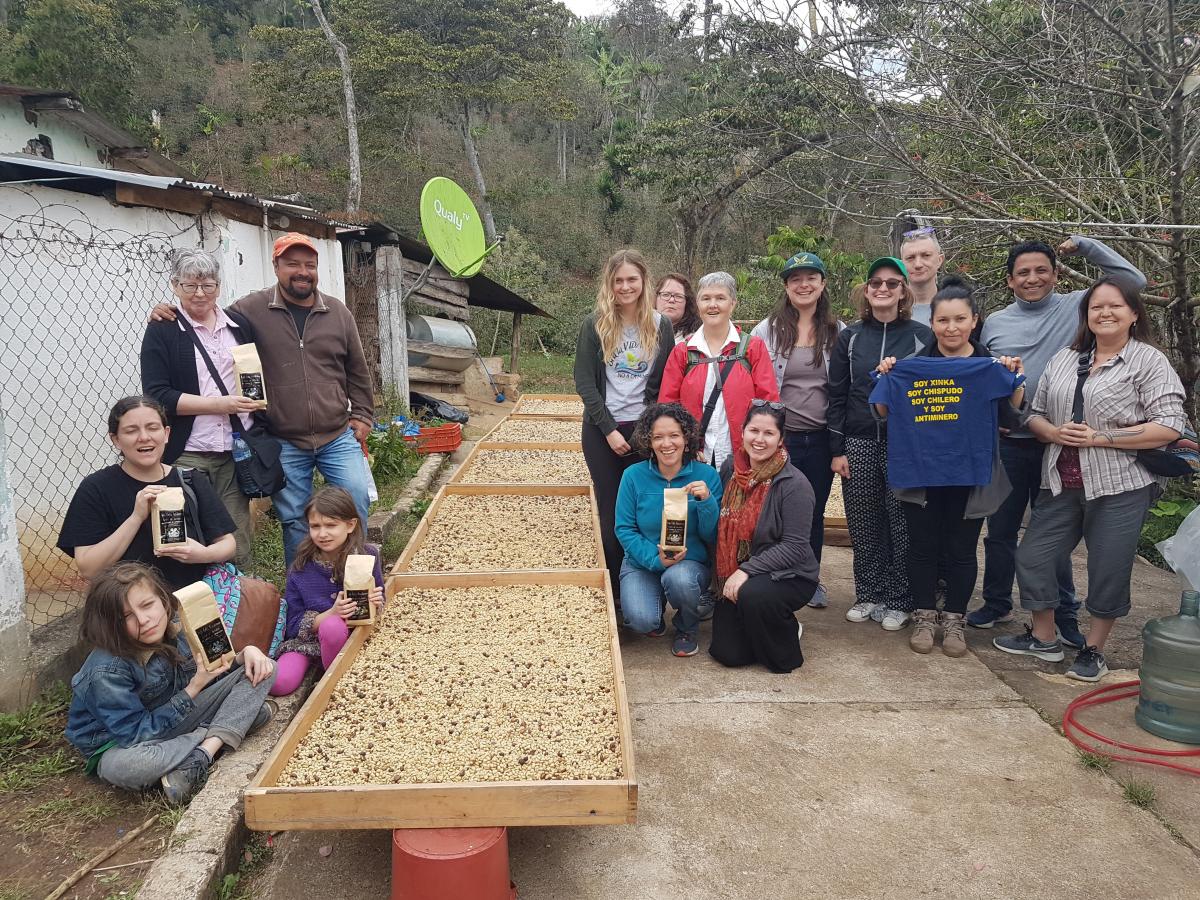 I met with 'Resistance Coffee" growers, in particular, Alex Reysono. He is a world class coffee grower and the father of a young woman, Topacio Reynoso who is believed to have been killed as a result of her mine resistance work. Despite numerous requests for an investigation into her cause of death, pleas have not been heard and her death was never investigated. Alex himself had also been shot and injured. It is strongly believed that these crimes were a part of the company and governments attempt at silencing voices and action. 
At the Canadian Embassy in Guatemala, our delegation appealed for our government to support the Xinka in their right to consultation. Our appeals were denied.
After the trip, our delegation participated in many calls and shared many emails to plan ways to pressure Pan American Silver here at home. Then COVID happened. Due to restrictions imposed by the pandemic, one of our main planned actions was cancelled. While not as effective, we still found virtual ways to meet our objectives. 
Several solidarity actions have been taken since my return. 
In March 2020, PSAC sent a letter to Pan American Silver asking them to not take advantage of COVID19 to advance the Escobal mine;
In April 2020, PSAC-BC endorsed and promoted a teach-in on Earth Day organized by MiningWatch Canada, attended by several PSAC members. PSAC-BC also participated in a digital email blast to Pan American Silver to amplify Xinka concerns; 
On July 29, PSAC-BC sent a letter to Guatemalan officials expressing concern with regard to ongoing impunity for human rights violations against Xinka defenders.
Following the January 16, 2021 attacks against members of the peaceful resistance to Escobal Mine, PSAC signed an open letter together with 195 international organizations denouncing the assassination attempt against Mr. Julio David González Arango. 
The recent assassination attempt against Xinka land defenders underlines the need maintain our vigilance and solidarity with peaceful human right and land defenders in Guatemala. You can closely follow the latest developments from the resistance's website.  
The experience of this trip will remain with me forever. It makes me reflect on the importance of PSAC's Social Justice Fund, and organizations like MiningWatch Canada and Breaking the Silence Network. I can really relate to the situation faced by the Xinka, by comparing their experience to experiences I've felt here at home. I know the intense courage it takes to face corporations that will violently impose their will using government and police. When you are an indigenous community facing bullies, it's hard to know who to trust. MiningWatch Canada and Breaking the Silence Network had the Xinka trust. 
I sincerely thank PSAC for supporting the Xinka through this intense situation. We must keep our eyes on the situation in Guatemala and offer support when asked.