After nearly two years of bargaining leading to one of the largest strikes in Canadian history, PSAC has reached tentative agreements for the more than 120,000 Treasury Board workers who deliver critical services to Canadians.  
With the national strike now over for Treasury Board workers, members of the PA, SV, TC and EB bargaining groups are required to return to work beginning May 1 at 9 a.m. ET or their next scheduled shift after that date.
In this tentative agreement, PSAC has secured a fair contract for members that exceeds the employer's original offer before the launch of strike action, and provides wage increases above the recommendations of the Public Interest Commission as well as those negotiated by other federal bargaining agents. It also provides significant new protections around remote work for PSAC members. 
"During a period of record-high inflation and soaring corporate profits, workers were told to accept less – but our members came together and fought for better," said Chris Aylward, PSAC national president. "This agreement delivers important gains for our members that will set the bar for all workers in Canada." 
This agreement is a testament to the hard work and dedication of PSAC members who held the line on fair wages and better working conditions. 
Highlights of the tentative agreement 
Wages that close the gap with inflation
PSAC negotiated wage increases totaling 12.6% compounded over the life of the agreement from 2021-2024 and retroactive to June 2021 when the previous contract expired. PSAC secured an additional fourth year in the agreement that protects workers from inflation, as well as a pensionable $2,500 one-time lump sum payment that represents an additional 3.7% of salary for the average PSAC member in Treasury Board bargaining units.  
2021-2024:
| | | | | | |
| --- | --- | --- | --- | --- | --- |
| Year of the agreement  | 2021  | 2022  | 2023  | 2024  | Total  |
| Wage increase  | 1.5%  | 4.75%  | 3% + 0.5%*  | 2.25%  | 12%  |
| Total compounded wage increase  | 1.5%  | 6.4%  | 10.1%  | 12.6%  | 12.6%  |
*wage adjustment of a minimum of 0.5% for all bargaining units 
One-time lump-sum payment 
The pensionable one-time lump sum payment of $2,500 will be applicable to all members of the bargaining unit employed at the time of signing the agreement. For PSAC members approaching retirement, the pensionable lump sum payment will contribute to their average salary for their best five years of service, and increase their overall pension payments in retirement. 
Lump sum payment 

$2,500 (pensionable) 

Example salary 

Lump sum value 
relative to salary 

$45,000 

5.5% 

$55,000 

4.5% 

$65,000 

3.8% 

$75,000 

3.3% 
Strike action improves final wage offer
By securing an overwhelming strike mandate and following through with strong strike action, important gains were made to the employer's final wage offer.  
In the graph below, you'll see a comparison of the employer's position on wages before PSAC declared strike action; the settlements achieved by other federal public service bargaining agents for the same time period; and the wage offer PSAC negotiated in the tentative agreement.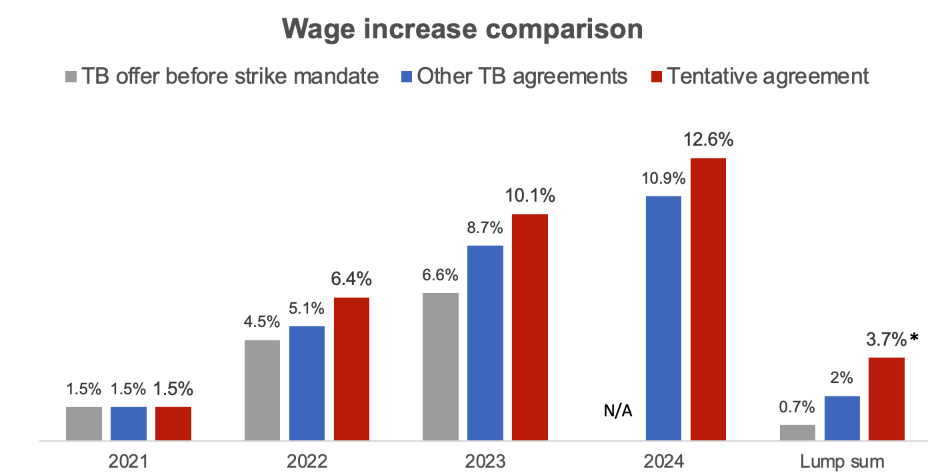 * Based on an annual average salary of $67,300 for PSAC members at TB 
New and improved remote work language 
PSAC members will now be protected from arbitrary decisions about remote work.  We have negotiated language in a letter of agreement that requires managers to assess remote work requests individually, not by group, and provide written responses that will allow members and PSAC to hold the employer accountable to equitable and fair decision-making on remote work.   Having all remote work requests reviewed on an individual basis will prevent future "one size fits all" type mandates like the government announced in December last year. 
 
That means employee rights around remote work arrangements will be protected through a grievance process, and grievances that are not settled prior to the final step of the grievance process can be referred to a new joint union-management panel for review in each department to address issues related to the employer's application of the remote work directive in the workplace. 
 
PSAC and Treasury Board have also agreed to create a joint committee to review and update the telework policy for the government last updated in 2020 – before the pandemic began.
Additional market adjustments and table-specific improvements
PSAC has also secured several table-specific wage adjustments and other improvements that will be fully outlined in the coming days.   
Safer and more inclusive workplaces
Everyone in the federal government can benefit from anti-racism and discrimination training. That's why we've reached an agreement to create a joint committee to review the existing training courses related to employment equity, diversity, and inclusion, and to ensure employees are fully aware of training opportunities available to them during their work hours.  
We also know a diverse workforce with strong Indigenous representation means a better public service for all. With the new addition of paid leave for Indigenous employees to engage in traditional Indigenous practices, including hunting, fishing and harvesting, the government will be better able to attract and retain more Indigenous workers and recognize their lived experiences. 
Protections against contracting out 
Privatization and contracting out in the federal public service out lead to higher costs, more risk, and reduced quality of services for Canadians. PSAC has negotiated language to ensure that in the event of layoffs, PSAC members will not lose their job if they can perform the duties of a contractor already working with the federal government. This language will protect public service jobs and reduce contracting out in the federal public service. 
The government has also committed to a consultation process on the issues associated with contracting out in the federal public service. 
Seniority under Workforce Adjustment Directive
PSAC and the employer have agreed to submit a joint proposal to the Public Service Commission of Canada to include seniority rights in the Workforce Adjustment process. 
Other gains at the bargaining table
PSAC also made important improvements on a number of issues, ranging from a commitment to review the bilingual allowance, an increase to shift premiums, leave for union business and other types of leave. A detailed summary of these improvements will follow in the coming days. 
Full text and next steps
In the coming days, a full explanation of the new agreements, and a copy of the new language, will be provided once they have been fully translated for the PA, SV, TC and EB groups. PSAC members will shortly thereafter be invited to participate in online ratification votes. Details about the votes will be shared as soon as possible.  
The PSAC bargaining teams recommend the ratification of the tentative agreement.