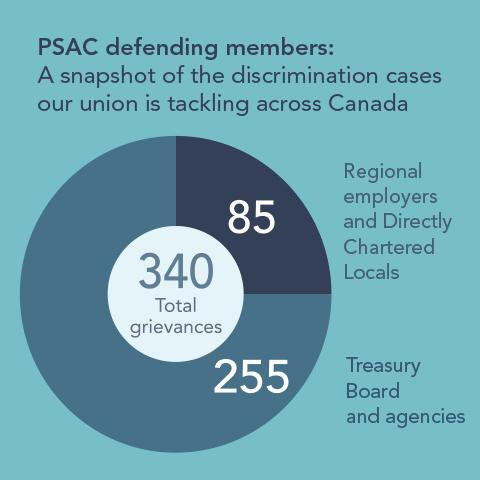 One of the ways PSAC works to eradicate racism in workplaces across Canada is through the grievance and adjudication process. Our team of legal officers has a proven track record of representing members in landmark cases of racial discrimination, often all the way to the Supreme Court of Canada.
Christian Reeves
PSAC recently won a landmark legal battle against discrimination based on race at Canadian Forces Base Halifax.
Christian Reeves, who was born in Liberia, was the only Black man in the heavy-duty mechanic program. For six years, he felt he was treated differently because of his race. 
"I was told that I had to watch my back because they were trying to get rid of me," Christian said.
In 2015, Christian was terminated by the Department of National Defence, allegedly for poor performance. Christian suspected he was singled out because he was Black and filed a grievance with his union. A PSAC investigation revealed a coordinated plot against him, stretching all the way up to base management, with many of his co-workers forced to make up stories about his performance to get him fired.
"Everyone on the base was part of the systemic discrimination against him,"
says Doug Hill, a PSAC legal officer. 
Christian was awarded four years' back pay and $25,000 in damages under the Canadian Human Rights Act. All 10 staff who discriminated against Christian were either fired or removed from the base.
Andrea Kenny
Andrea Kenny turned to her union for help in 2016 after her supervisor at the Department of National Defence pinned up two racist posters in her office. 
"I was shocked," said Andrea, who, as a Black woman, felt personally attacked. When her managers refused to address the incident, Andrea knew she had to act. 
"I couldn't just stand by and let this happen," she said. She reached out to PSAC and the Union of National Defence Employees and filed a grievance for racial discrimination
and systemic racism.
The union's legal team has been working tirelessly on her case, and she's now close to a reaching a settlement. Her supervisor has also been suspended pending an investigation.
Andrea said she couldn't have stood up to her employer without the help of her union.