About 70 PSAC members serve with the Anishinabek Police Service (APS), providing culturally sensitive policing in 16 Ontario First Nation communities. APS officers are usually occupied with everything from motor vehicle accidents to drug interdiction to responding to violent incidents, but the COVID-19 crisis has led them to serve their communities in novel ways.
A relatively small force, APS detachments are scattered across a huge geographic expanse—from Kettle Point near Sarnia to Fort Williams just outside Thunder Bay, over 800 kilometers away. In contrast to the Ontario Provincial Police and other municipal police forces serving adjacent areas, the APS has long been underfunded by the provincial and federal governments. This has resulted in comparatively lower pay and benefits for front line officers, and also means that First Nations communities continue to be served by a smaller number of officers.
Constable Sergeant Chantal Laroque is with the Nipissing detachment and serves on the executive of the PSAC local representing APS front-line officers. She says that while officers have been busy since the COVID-19 lockdown began, there was "always overtime" due to chronic under-resourcing.
Nevertheless, as the lockdown and isolation measures rapidly increased in March, officers in various detachments quickly adapted to support their communities in additional ways, even as one officer tested positive for COVID-19, necessitating the isolation of several others and further stretching limited resources at a critical time.
APS officers are playing a key role in restricting the spread of COVID-19 by monitoring access roads to their communities and ensuring that only local traffic enters. These checkpoints are vital as many First Nations are located in areas with limited medical services, meaning an outbreak would be particularly difficult to manage.
This patrolling function has continued even as the Ontario government began loosening restrictions.
PSAC members have also sought to go beyond the usual range of services offered by police. In a novel initiative, the detachment serving the Pic River and Pic Mobert communities on the shores of Thunder Bay began offering the community a grocery service as soon as the lockdown began in March. With just one call, residents can request a ride to the store or provide a list of items for a constable to buy and deliver to their homes. The service is being offered throughout the duration of the pandemic.
The work of PSAC members in the APS during this pandemic has been warmly received by First Nations communities. Many have put up signs to show their appreciation.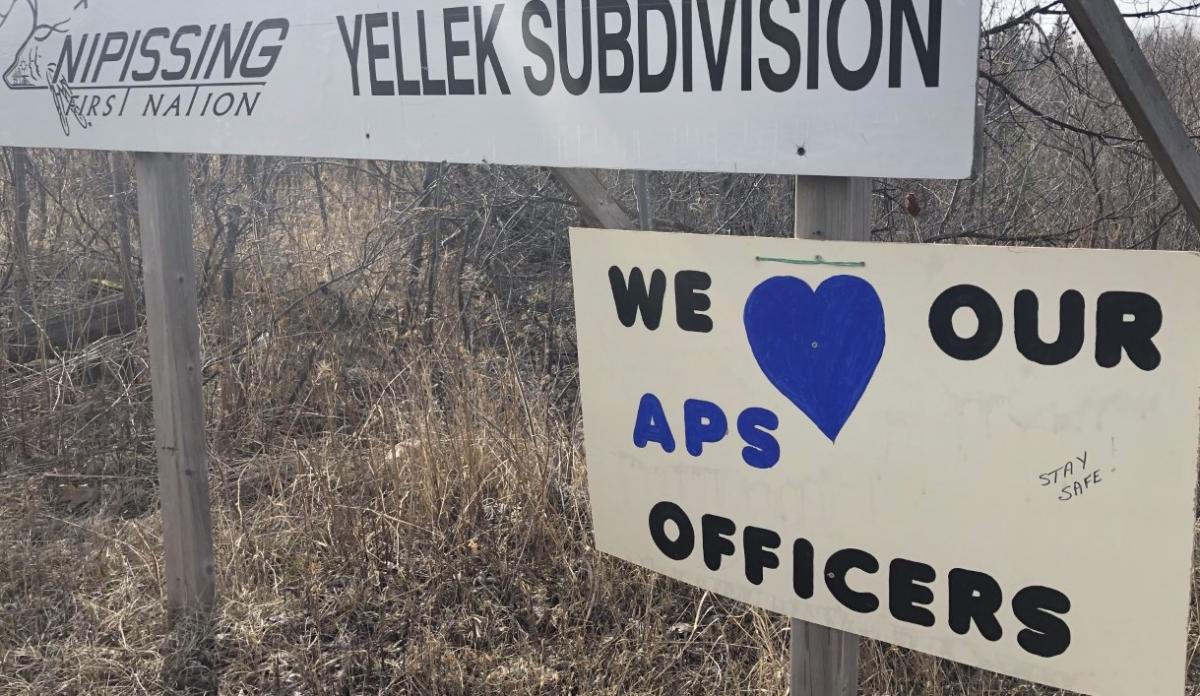 Cst. Sgt. Laroque notes that the union and APS leadership have worked collaboratively through this crisis to ensure front-line officers are properly equipped with personal protective equipment and feel well supported as they put themselves at risk of exposure on the job every day.
Despite the critical role played by front-line officers, however, the APS is still not recognized by the provincial and federal governments as an essential service. This is something constables continue advocating for through their union, and the pandemic has clearly highlighted the critical nature of their work.
Cst. Sgt. Laroque also notes that gains have been made in recent years on improving pay, and that work continues on making the pension plan more consistent with those of non-Indigenous police forces. She credits the union with this trend, saying "PSAC has been instrumental beyond words" in helping raise working conditions in the service.
"I'm proud to serve First Nations communities in this difficult time and I'm also proud to have a union supporting us as we fight for equity," adds Laroque.