In early March of 2020, PSAC young workers travelled to the Highlands of Guatemala to take part on the 13th Education-In-Action delegation, an annual project led by PSAC's Social Justice Fund in collaboration with the solidarity organization Education In Action. Charito Humphreys​ was part of the delegation. Here's her story.
In all my years, I've never felt uneasy in the presence of law enforcement. I have always felt that I could go to them for protection. I have also always felt that the government would uphold the law and justice would be served. That all changed when I went to Guatemala. I mean yes, I've heard stories and seen pictures of countries where the political corruption is rampant but it's another feeling to step into a country and live that reality. 
Going into the trip I knew there was political corruption in Guatemala but to hear the story of the deadly fire on March 8, 2017 at Hogar Seguro Virgen de la Asuncion that killed forty-one girls and injured 15 more and the corruption surrounding the event and aftermath was absolutely appalling. 
Hogar Seguro was supposed to be a place for these girls to receive help from the state for behavioural issues, to receive an education and a safe place to live, but that was far from the truth. The girls faced mistreatment, were denied visits with their families, abused and even raped. 
On the previous night on March 7, a group of girls decided that they had enough and wanted to try to escape. Some of them managed to get away but were hunted down by the police. When the police caught the girls they were handcuffed, beaten and forced to their knees. One girl was cut across her stomach and another cut with scissors on her leg, all by police. These girls aged 12-17 were being treated like criminals. Some were taken back to the Justice of the Peace while others were taken back to Hogar Seguro. That night, 56 girls were locked in a room 4 meters by 4 meters which usually had a capacity for 26 girls. Their dinner was laced with sedatives and they weren't allowed to go to the bathroom. 
After a grueling night, just before 9am a fire broke out. Incredibility there were police and staff outside of the room when the fire started and they saw the smoke coming from the room and did nothing. The girls begged and pleaded to be let out. One girl even heard a police officer say "let those b*****s burn". The girls waited in that room for 9 minutes before someone eventually opened the door. Tragically 19 girls died instantly in the fire and 22 succumbed to their injuries over the next few weeks. 
Where was the government in all of this? The President at the time, Jimmy Morales, was aware of the situation but no action was taken by the government. A criminal investigation was opened to investigate the deaths of the girls. 11 people are facing charges for the events surrounding March 8, 2017 but no convictions have been made. There was a small window where former President Morales could have been held accountable but the process was delayed by the political manipulation and any action for prosecution was blocked. 
Less than two years later, that same president Jimmy Morales abruptly terminated the mandate of the UN's International Commission against Impunity in Guatemala (know as CICIG). This independent UN anti-corruption commission had been successful in prosecuting and convicting high level politicians on acts of corruption, illegal financing, abuse of authority and bribery among many other criminal acts. Although there was international condemnation of the President's unilateral termination, his decision got wide support from the country's business and political elite. Political corruption in Guatemala prevailed.
How do you live in a country that lets people get away with murder? How do you trust the police when they watched your daughter burn alive? How do you have faith in a justice system that doesn't allow justice to be served?
Amid the Hogar Seguro tragedy, 5 women from the neighbouring community came together and founded the Ocho Tijax Colectivo, a grass-root organization that supports and seeks justice for the 15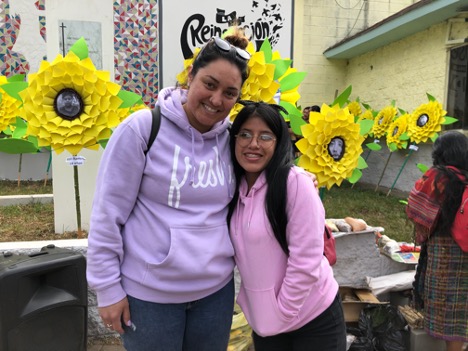 youth survivors and their families as well as families of the deceased girls. Among this citizen solidarity network, there are also mothers like Vianney Hernandez, mother of 14-year-old Ashley who died in the fire. Vianney now tells her story to people from all over the world and fights every day for justice for her daughter. Then there are young women like Kimberly, a survivor of the fire at age 15, now bravely telling her story for the first time and building a new life for herself. These resilient women give me hope that justice will be served and those involved in the political corruption in Guatemala are made accountable and start to pay for their crimes.
My experience with the PSAC Social Justice Fund has reminded me why I fight for human rights and helped me realize that social justice is not only a national issue but a global issue that we need to continue to fight for. My hope is that more people are able to have experiences like I have through the PSAC Social Justice Fund and we can work towards social justice for all. 
by Charito Humphreys 
Charito is the president of the Canadian Employment and Immigration Union (CEIU) Local 40811 and the Alternate National Vice-President for CEIU Manitoba/ Saskatchewan Region.