In early March of 2020, PSAC young workers travelled to the Highlands of Guatemala to take part on the 13th Education-In-Action delegation, an annual project led by PSAC's Social Justice Fund in collaboration with the solidarity organization Education In Action. Whitney McSheffery​ was part of the delegation. Here's her story.
International Women's Day, a day when many come together to celebrate our sisterhood, our successes, all that we have overcome and fought for. A day to celebrate in solidarity that women are equal, brave, strong, and much more than just something to be physically admired. A day to grieve the incidences of violence against women in many forms, and to remember those we have lost to such atrocities. March 8th, 2020 was the most impactful International Women's Day I have known.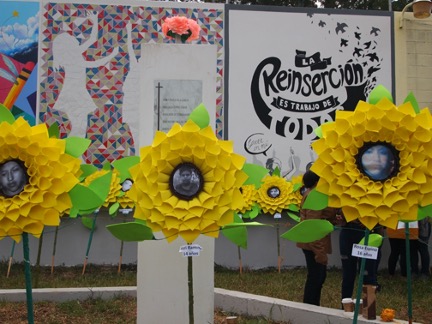 On International Women's day, March 8th, 2017 a tragic and violent incident occurred at a state-run centre for children and youth, named Hogar Seguro Virgen de la Asunción in Guatemala. The centre was proclaimed to be a "Safe House" for at risk teens and youth which parents were unprepared to deal with, due to systematic socioeconomic and psychosocial inequities that are unfortunately familiar to the people of Guatemala. For the parents of these teens and youth, this was their best and only option in helping protect and keep their children safe, trusting the state with their care. 
Hogar Seguro Virgen de la Asunción "Safe house" as it was called, was tragically the opposite of safe. Teens were treated extremely poorly, being woken in the middle of night and made to bathe in communal pools in the freezing cold. Food was sparse and tainted with iodine and other chemicals in order to sedate them, and keep them repressed, as there were both boys and girls at the facility. Instead of mentoring the youth, supposed 'treatment professionals' blamed and accused them, telling them they were bad and defiant, rather than listening to their hardships and giving them proper mental health treatment. The facility lacked basic human rights and was run like a youth prison. 
The ongoing abuse led teens to an attempted escape that tragic day in 2017. The director of the Hogar Seguro and high-level government officials ordered the Guatemalan police to round up the youth. Many were injured in the process, and subsequently locked in a small room, where a fire broke out.  Tragically, 41 girls were burned alive and only 15 of the girls survived with severe burns and amputations, as well as psychological trauma. The police knowingly and deliberately targeted these girls, ignoring their screams and cries to let them out.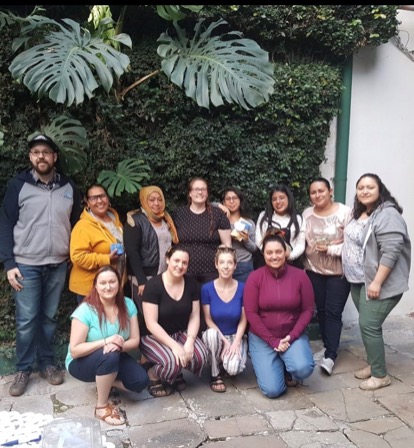 As part of the 2020 Education In Action delegation, we were invited to participate in a traditional Mayan Ceremony to commemorate the 3rd anniversary of this tragic act of violence by the state of Guatemala against its most vulnerable members of society, young women and girls. We were humbled to have had the honor of meeting one of the surviving girls the day prior, as well the mother of one of the girls who lost her life in the fire. With knots in our throat, we listened to their personal and emotional accounts. These women were supported by the grass-root advocacy group, 8 Tijax. The 8 Tijax collective began in the hospitals where survivors of the fire were being admitted. This group of women provided psychological assistance, as well as moral and spiritual support and continue to support victims and families through the legal cases currently in Guatemalan courts, in pursuit of justice. Their solidarity among these women was truly moving. 
As we approached the site of Hogar Seguro Virgen de la Asunción, and saw the tall cement walls, watch tower, and barbed wire, I was overwhelmed with anger and grief…picturing the accounts of Kimberly Rodriguez, the brave and kind young woman who spoke with us the day prior. I looked over to see her there, arm in arm with her best friend. I couldn't imagine what this might have been like for her to return here again. Sunflowers had been erected with the face of each girl in the middle of the flower, to commemorate each person who was lost in the fire. We chanted together during the ceremony, naming each girl and calling for JUSTICE. Three years later, survivors and families of victims continue to endure multiple legal delays against the state officials who have been charged for these acts of violence, an emblematic national tragedy highlighting the institutionalised gender-based violence prevailing in Guatemala. We will continue to share their stories in solidarity and vocalize our grave concerns for these continued injustices against women and girls in Guatemala. 
by Whitney McSheffery
Whitney is a member of Union of Veterans' Affairs Employees, and President of Local UVAE 60006 based in Lincoln, New Brunswick.