Equity seeking groups continue to face higher rates of precarious work, homelessness, poverty, under-employment, unemployment and social isolation. The COVID-19 pandemic has increased the inequalities marginalized individuals typically face.
Physical distancing may be assisting in decreasing the spread of COVID-19, however being isolated with an abusive partner or homophobic family member can lead to domestic violence. Individuals who have lost their job or child care may now be facing serious financial hardship and under significant stress. If you or someone you know needs support, below is a list of resources that can help.
National resources
(If you are in immediate danger, dial 9-1-1)
For women:
Visit the Shelter Safe website to find a shelter/transition house near you.
A recent survey conducted by Statistics Canada demonstrates that 1 in 10 Canadian women are extremely concerned about the possibility of domestic violence during the pandemic. In light of these concerns, the Canadian Women's Foundation has launched a new campaign: Signal For Help. The signal is a one-handed hand gesture that can be used while on a video call to alert the person they are speaking with, that they are feeling threatened. The following is the signal: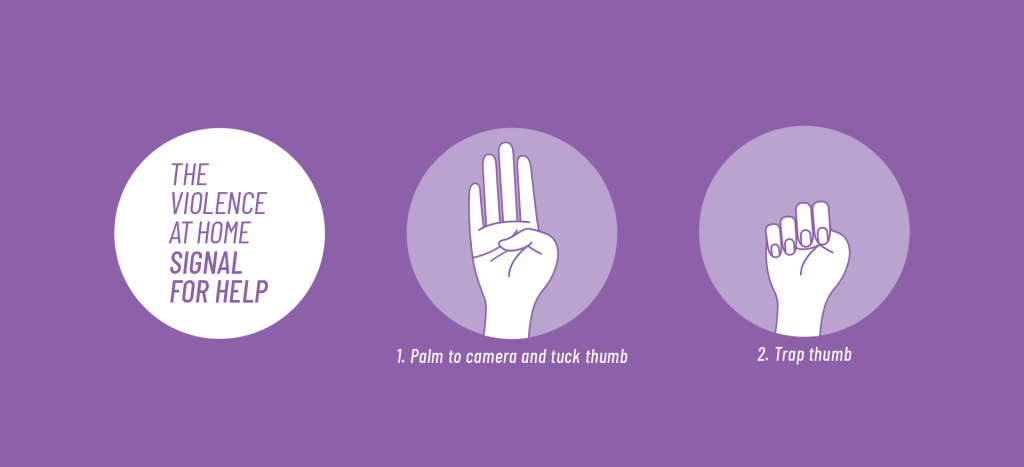 Find out more about the campaign at canadianwomen.org/signal-for-help
For the LGBTQ2+ community: 
Egale Canada's tips for those in quarantine with homophobic or transphobic families can be found here. General mental health tips for coping during COVID-19 can be found here. 
Trans Lifeline: 1-877-565-8860
Provides support, information and resources to the trans community, as well as their families and friends. The support line is created by the trans community and for the trans community. Operators are located in the US and Canada.
Providing peer-to-peer support to all Canadians related to sexual orientation, gender identity and gender expression.
Youth Services Bureau: 1-877-377-7775
Provides 24/7 counselling and crisis line for youth and the LGBTQ community in Ottawa and Eastern Ontario; will also make referrals in other cities.
Online service | Thurs to Sun 4 p.m.–10 p.m. EST
Resources by province
Alberta

Family Violence Info Line (toll-free, 24-7, multilingual)
Phone: 780-310-1818

Alberta Council of Women's Shelters
Phone: 1-866-331-3933

Camrose Women's Shelter Society
Phone: 780-672-1035 (main line)
Toll-free crisis line: 1-877-672-1010

Sucker Creek Women's Emergency Shelter
Phone: 780-523-2929
Crisis line: 780-523-4357
Toll-free: 1-866-523-2929

British Columbia

VictimLink BC (24-7 helpline)
Phone: 1-800-563-0808
Text: 604-836-6381
Email: VictimLinkBC@bc211.ca

Battered Women's Support Services
Crisis line: 604-687-1867
Toll-free: 1-855-687-1868

Surrey Women's Centre
Phone: 604-583-1295

Manitoba

Provincewide Family Violence Helpline (toll-free, 24-7)
Phone: 1-877-977-0007
TTY: 1-888-987-2829

Klinic Crisis Line
Crisis line: 204-786-8686
Toll-free: 1-888-322-3019
TTY: 204-784-4097

New Brunswick

Fredericton Sexual Assault Crisis Centre
Phone: 1-506-454-0437
Email: fsacc@nb.aibn.com

New Brunswick Victim's Services

Crossroads for Women Inc., Moncton
Phone: 506-857-8028

Domestic Violence Outreach, Saint John
Phone: 506-632-5616 or 506-649-2580

Newfoundland and Labrador

Hope Haven Transition House Crisis Line
Crisis line: 709-944-6900
Toll-free: 1-888-332-0000

Northwest Territories

NWT Help Line
Phone: 1-800-661-0844

Yellowknife Victim Services
24-hour crisis line: 867-765-8811

Nova Scotia

General helpline run by Feed Nova Scotia
Toll-free: 1-877-521-1188
TTY: 1-855-443-2660

Transition House Association of Nova Scotia

Nunavut

Nunavut Kamatsiaqtut Helpline (open nightly, 7-12 p.m. ET)
Toll-free: 867-979-3333

Cambridge Bay, St. Michael's Crisis Shelter
Phone: 867-983-5232

Qimavvik Shelter, Iqaluit
Phone: 867-979-4500

Kugaaruk Family Violence Centre
Phone: 867-769-6100

Ontario

Assaulted Women's Helpline
Toll-free: 1-866-863-0511
Toll-free TTY: 1-866-863-7868

The Ontario Network of Sexual Assault/Domestic Violence Care and Treatment Centres
Phone: 416-323-7327

Legal Aid Ontario Domestic Abuse Hotline
Phone: 1-800-668-8258

Fem'aide (provincial helpline for francophone women in Ontario dealing with violence)
Telephone: 1-877-336-2433
TTY: 1-866-860-7082

Talk for Healing (available to Indigenous women living throughout Northern Ontario)
Phone: 1-855-554-4325

Ontario Victim Services
Victim support line: 1-888-579-2888 or 416-314-2447 in Toronto area

Prince Edward Island

P.E.I. Family Violence Prevention Services
Phone: 1-800-240-9894

Prince Edward Island Victim Support Services
Queens and Kings County: 902-368‑4582
Prince County: 902-888‑8218

Quebec

Domestic Violence Hotline
Phone: 514-873-9010
Toll-free: 1-800-363-9010

Fédération des maisons d'hébergement pour femmes

Quebec Victims Services
Phone: 1-888-933-9007 or 514-933-9007 in Montreal region

Saskatchewan

24-hour Crisis and Abuse Line 
Phone: 1-800-214-7083

Abused Women's Crisis Line
Phone: 1-888-338-0880

North East Crisis Line
Phone: 1-800-611-6349 or 1-800-668-6868

Prince Albert Domestic Violence Crisis Intervention
Crisis line: 306-764-1011

Provincial Association of Transition Houses and Services of Saskatchewan

Yukon

Kaushee's Place/Yukon Women's Transition Home
Crisis line: 867-668-5733 (collect calls accepted from outside Whitehorse)
Phone: 867-633-7720

Yukon Victim Services
Phone: 867-667-8550
After-hours support VictimLink: 1-800-563-0808