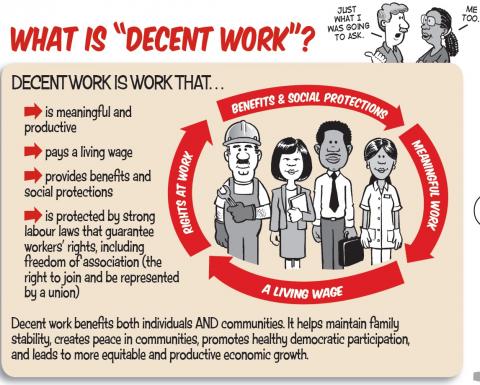 To commemorate World Day for Decent Work, PSAC is calling on its members and all Canadian workers to mobilize against corporate greed and expose the Harper Conservatives dismal support for workers' rights.
Since 2008, the International Trade Union Confederation (ITUC) has organized the World Day for Decent Work (WDDW) on October 7.
Examples of workplace inequality
Wages, pensions and job security are under attack
Governments whittle down laws that protect workers' rights, including the right to join or organize unions
Workplace safety is compromised resulting in serious injuries and deaths
Women and Decent Work
According to the ILO, empowering women economically improves
National economies
Household productivity
Living standards
Exposing the Harper Conservative's record
During this federal election, there is a great opportunity to expose the Harper government's support for:
Corporate welfare
Dismantling of laws and regulations protecting workers' rights
Cuts to public services that support the welfare and security of Canadians
We need a government that 
Ensures collective bargaining rights based on the fundamental guarantee of freedom of association
Prioritizes people's rights and welfare
With this knowledge in hand, let's stand together on this day as trade unionists for decent work!
See the CLC's new fact sheet: Decent Work for All