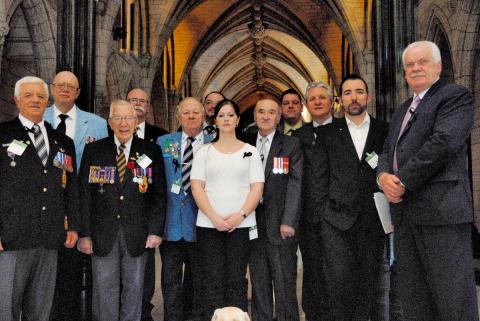 The Public Service Alliance of Canada applauds the federal government's decision to re-open Veterans Affairs offices in nine cities within one year.
"The announcement from Veterans Affairs Minister Kent Hehr that the nine offices will re-open within a year is a significant victory for all of the veterans and advocates who worked so hard on the campaign to reopen the offices. We are ecstatic that veterans will have access to in-person services once again," said Robyn Benson, PSAC National President.
Veterans speak out
Between 2013 and 2014, the Conservatives closed front-line offices in Corner Brook, Charlottetown, Sydney, Windsor, Thunder Bay, Brandon, Saskatoon, Kelowna and Prince George.
Veterans from across Canada worked valiantly to stop the closures. They convened a delegation on Parliament Hill in 2013, speaking out about the potential impact of losing crucial services.
At the time, former Veterans Affairs Minister Julian Fantino was dismissive of the veterans. He came under fire from Canadians for cancelling a meeting with the veterans.  When the Sydney office closed in December 2013, more than a thousand people took to the streets in protest. Similar actions took place in other cities affected by the office closures as well.
PSAC supported these efforts by releasing a series of testimonial videos, documenting the impact of the office closures on veterans' lives and mental health.
Politically engaged
Between 2013 and the 2015, veterans became increasingly politically active and pledged to fight the Conservative government. They secured promises from all of the opposition parties to re-open the offices. And in the majority of ridings affected by office closures, voters chose not to elect Conservative candidates.
"The Conservative government's disrespect of Canadian veterans was a major issue in the recent federal election," said Carl Gannon, National President of the Union of Veterans Affairs Employees.
"The recent announcement about the re-opening of the offices means that veterans and their families will receive the support they deserve.  This is a victory for current veterans and all of those that will come after them," he added.  
"It is so wonderful that our voices are finally being listened to," said veteran Ron Clarke, who was active in the fight to re-open the office in Sydney, Nova Scotia.
"This victory was hard-won and demonstrates the public support for veterans and public services. We deserve respect and the ability to have our needs addressed in person."