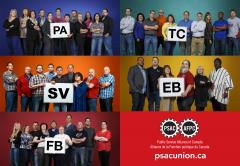 Four bargaining teams will be back at the table with Treasury Board, with the assistance of a mediator, to continue negotiations for new collective agreements.
The Education and Library Science (EB) and the Technical Services (TC) groups will return to negotiations the week of January 16, 2017.
The Operational Services (SV) and the Border Services (FB) groups will return to the bargaining table the week of January 30, 2017.
Tentative agreement reached for PA table
On December 14, 2016, the Program and Administrative Services (PA) table reached a tentative agreement, covering over 68,000 federal public service workers. The deal includes significant breakthroughs on "common issues," such as sick leave and workforce adjustment.
More updates to come
To keep up to date on bargaining, sign up for email updates.