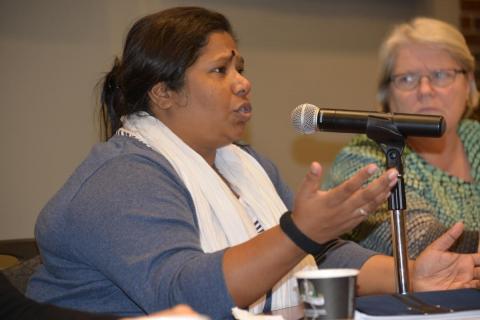 April 24, 2017, is the 4th anniversary of the Rana Plaza factory collapse in Bangladesh that killed 1,134 and injured 2,500 garment workers.
To commemorate this anniversary, Canadian unions have joined together to promote action to raise public awareness about the struggle of factory workers. Today, we are asking Canadian retail brands, that operate factories in Bangladesh, to disclose their suppliers in the country. We are also urging them to tell us how they are supporting workers' rights and to publicly disclose how their suppliers are correcting the workplace violations uncovered by factory inspections.
Below is a letter from Kalpona Akter, the executive director of the Bangladesh Centre for Worker Solidarity. She is asking Canadians to join this campaign. 
Greetings,
I'm Kalpona Akter.
I'm a workers' rights organizer in Bangladesh and I write to you today to ask Canadians for your help.
I am very passionate about organizing, because I worked in clothing factories as a young girl. I lived the unsafe and unfair conditions women still face in Bangladesh's garment factories.
Since the Rana Plaza disaster in 2013, some companies have stepped up: they disclose their factory locations, invest in building safety upgrades, and allow inspectors and workers' organizations to visit. But there are many clothing brands who import from factories with buildings that are unsafe and in disrepair.
Mark's, Sport Chek and Canadian Tire are Canadian companies that operate in the dark.
We know that they import clothing from 67 different factories in Bangladesh, but they are keeping the factories hidden from public scrutiny.
We must stop fashion killings from ever happening again. I am confident that together we can force companies like Mark's to tell us what factories they import clothing from, so that we can check to see if those 67 factories have made building repairs recommended after the Rana Plaza collapse.
Email Mark's, Sport Chek and Canadian Tire today and ask them to tell us the names and addresses of the factories they use.
Take action now. I need your help showing the companies that Canadians care.
Hundreds of thousands of Bangladesh garment workers thank you for your solidarity.
Kalpona Akter,
Executive Director, Bangladesh Centre for Worker Solidarity