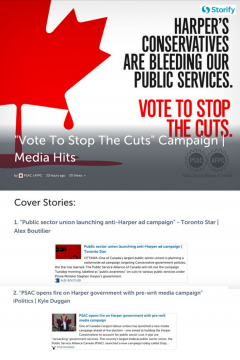 PSAC recently launched an awareness campaign about the impact of the drastic cuts that have been made to public services. The Vote to Stop the Cuts campaign focuses on cuts to key services that have affected Canadians since the Harper Conservatives came into power: support for veterans, border security, search and rescue, Employment Insurance, environmental protection and food safety.
The campaign is generating mass media and public attention. Almost every major media outlet in Canada covered the campaign's launch and publicized the campaign video and images. We garnered stories in the Toronto Star, CBC, Maclean's, La Presse, Le Droit, National Post, CTV News and The Huffington Post. Check out our collection of media coverage, tweets and interviews on Storify.
In one week, the campaign video has reached a massive combined total of over 1 million views on YouTube & Facebook in both languages. The campaign posters, memes and images have been shared across social media platforms over 6000 times. PSAC's Facebook page now boasts a huge following of over 23,000 fans, giving PSAC the largest presence on Facebook of any Canadian-wide labour union and visits on the micro site (July 14 to July 23) have reached 134,367. This is an incredible response and a testament to how our message is resonating with PSAC members and the Canadian public.
We hope this awareness raising campaign will encourage Canadians to vote in the next federal election for candidates who oppose further cuts and seek to restore vital public services. Please continue to spread our message and share this campaign with your co-workers, neighbours, friends and family.