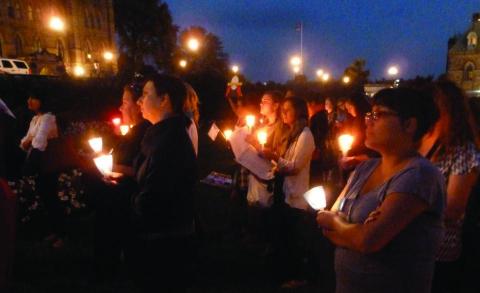 The Public Service Alliance of Canada is pleased to see that the federal government is taking the issue of violence against Aboriginal women seriously by launching an inquiry into Missing and Murdered Indigenous Women and Girls.
"Our union is committed to supporting the government inquiry and to standing up for the rights of all Indigenous women in Canada," said Robyn Benson, PSAC National President. 
PSAC advocates for an inquiry  
Our union's members and activists have spent more than a decade advocating and rallying for a serious investigation into the fact that more that more than 1,200 Indigenous women and girls have been murdered or gone missing since 1980.
At PSAC's most recent Triennial Convention, delegates voted unanimously to support a campaign to pressure the federal government to launch an inquiry and to support Indigenous women and girls.
National Aboriginal Peoples' Circle
Members of PSAC's National Aboriginal Peoples' Circle were present at the Assembly of First Nations' national council meeting today to hear the government's announcement that it would be launching the inquiry.
Kathie Ostrihon, an Ojibwe woman from Sarnia and a member of the Circle, emphasized the importance of consulting with and listening to the families of the missing women.
"We are looking for our daughters, sisters, mothers, grandmothers, aunties and wives. No one knows better how this inquiry should be conducted than the families of these women. We've been asking for this inquiry for more than a decade," said Ostrihon.
"That more than 1,200 Indigenous women have been murdered or gone missing is a national tragedy that merits serious investigation. We need to work together to uncover the root causes of violence against Indigenous women and make it stop," concluded Benson.