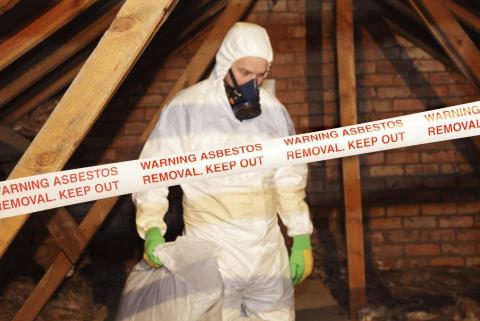 The federal government has announced its commitment to banning asbestos and asbestos-containing products by 2018. This is a long-awaited decision; PSAC has been calling on the federal government to ban the import, export and manufacturing of asbestos for years.
The federal government will create new regulations to ban asbestos, establish new federal workplace health and safety rules, and enhance the registry for federally owned buildings. 
"We welcome the government's decision to ban asbestos, which is the result of years of hard work by activists in the labour movement and our allies," said PSAC National President Robyn Benson. "Asbestos is the leading cause of workplace-related deaths in Canada; we must put an end to this epidemic."
In memory of Howard Willems
PSAC is also celebrating this decision in loving memory of our brother, Howard Willems, who passed away on November 8, 2012. Brother Willems was exposed to asbestos while on the job, inspecting plants that were being renovated. His exposure led to the development of a rare form of cancer, which is caused by inhaling asbestos fibers.
While battling this vicious occupational disease, Brother Willems successfully lobbied for the introduction of legislation, known as Howard's Law, requiring all buildings in Saskatchewan containing asbestos to be reported in a public registry.
Ban is an important first step
"This is an important step in the right direction," said Benson. "More is needed to achieve a comprehensive ban, and PSAC will continue to work hard until we get there."
A comprehensive approach should also include measures such as:
Establishing an expert panel to make recommendations for implementation of the ban
Creating a public, pan-Canadian registry of cases of asbestos-related diseases of asbestos-related injuries and fatalities, as well as a comprehensive health response to these diseases
Providing transitional support for businesses, workers and communities affected by the ban
Creating a national registry of buildings used by the public that contain asbestos
Harmonizing standards for asbestos disposal across the country
Read more about the asbestos epidemic
Read more about the government's asbestos ban