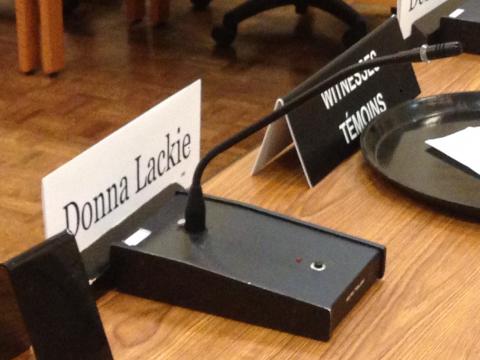 Speaking to a House of Commons emergency committee meeting yesterday to discuss the situation surrounding the Phoenix payroll system, Donna Lackie, National President of PSAC's Government Services Union (GSU) component, urged the Liberal government to move faster to fix the new pay system.
Lackie pointed out that the PSAC has been meeting with government officials for the last five years raising concerns, including telling them to slow down implementation in order to avoid problems.
Watch the PSAC presentation here (go to 16:41)
"The biggest struggle we have suffered was trying to get the employer to slow down. We have had numerous meetings with the government since 2011, but the roll out went ahead," said Lackie.
Pay centre employees dedicated, concerned by the problems
Workers at the Pay Centre in Miramichi have been doing their best to pay people accurately and on time. But insufficient staff and training, as well as flaws in the new Phoenix pay system are preventing these workers from doing so.
During her testimony, Lackie highlighted the stress our members in the Miramichi pay centre are facing. "We're getting calls on a daily basis from broken compensation advisors. We have people emotionally upset, crying coming to work. This has to stop."
Government needs to move more quickly to fix problems
During the hearing, departmental officials acknowledged that PSAC and other public service unions warned them the implementation needed to be halted or slowed down.
PSAC is also pushing the government to fully compensate employees for the hardship and disruption caused by the problems with the pay system.
"The government should listen to us now and use whatever measures are necessary to ensure that all employees are receiving the compensation they are due," said Chris Aylward, PSAC National Executive Vice-President.
"The government knows employees are still not receiving what they are owed.  We're tired of wishful thinking and promises; our members have waited long enough", concluded Aylward.