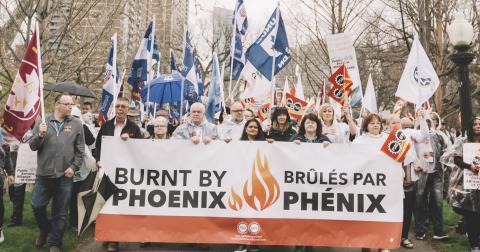 The Liberal government's election modernization bill will put a chill on advocacy between and during elections.
Appearing before a House of Commons committee, PSAC National President Chris Aylward pointed out some of the problems with Bill C-76. "Bill C-76 could be interpreted to put limits on what we can say publicly about positions being taken by our employers – the federal government and Crown agencies."
Aylward told the committee that PSAC was in bargaining with Treasury Board during the last federal election period. The union was advised by Elections Canada that messages on picket signs and banners displayed during demonstrations could be considered election advertising and subject to restrictions.
Bill C-76 would extend the period during which third parties, including unions, would have limits put on their ability to speak out publicly. It would also expect third parties to track and report on all advertising expenses between elections.
"This type of reporting places an unnecessary burden on unions and other organizations engaged in legitimate advocacy on behalf of their members and will effectively restrict public discussion of important issues," said Aylward.
PSAC has asked the committee to review the proposed bill very carefully so as not to restrict the right to freedom of expression.  Aylward also asked the committee to consider splitting the bill and moving ahead quickly with the sections that remove barriers to voting and restore the ability of Elections Canada to engage in public education, while taking more time to consider other proposed changes.