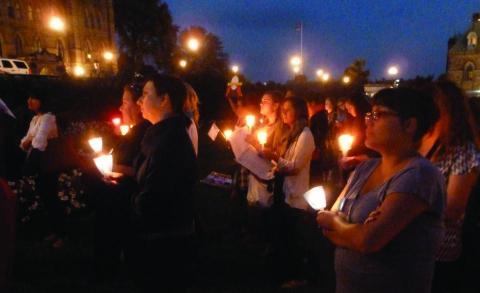 The Public Service Alliance of Canada joins Indigenous Peoples in recognizing the importance of the newly-launched National Inquiry into Missing and Murdered Indigenous Women and Girls.
The union also supports the suggestions of the Native Women's Association of Canada and other groups to improve the scope and inclusiveness of the inquiry, including:
Enforceable mechanisms to ensure that the areas that fall under provincial jurisdiction, such as policing and the child welfare system, fully participate and are held accountable for their past actions.
Culturally based counselling and trauma supports for survivors, not just when they are testifying before the Inquiry, but for an open-ended period.
The appointment of a sixth Inuk Commissioner, to better reflect the full scope of Indigenous women's experiences.
In a press conference today, NWAC President Dawn Lavell-Harvard stressed that the inquiry would not be happening today, if it were not for decades of activism by Indigenous Peoples on behalf of more than 1,200 missing and murdered women and girls. She also acknowledged the role that unions and women's organizations played in pushing this issue to the forefront of the political agenda.
"In an ideal world, this inquiry would not even be necessary," said Magali Picard, the PSAC Regional Executive Vice-President for Quebec. "Nothing will bring back all of the women and girls that have disappeared, but we hope that this process leads to justice and healing for all of the survivors and victims' families."
Kathie Ostrihon, a member of the PSAC's National Aboriginal Peoples Circle said she hopes that the commissioners will use their traditional teachings during the process and "know that spirits of the Missing and Murdered Indigenous Women and Girls, their families, friends and the entire Indigenous community will be guiding them."
For more information on the Inquiry, visit Indigenous and Northern Affairs Canada.