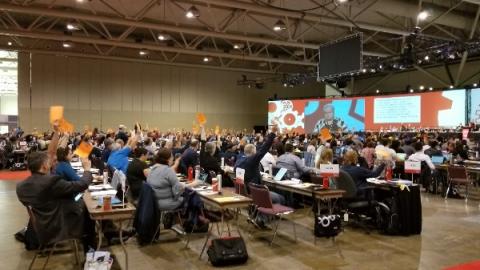 Domestic violence impacts work life. The trauma and stress that victims of domestic violence experience affect their ability to do their job. For many, the violence doesn't stop when they get to work.
The convention unanimously pledged the union to take concrete steps to address the needs of these victims after a number of delegates bravely shared their experience of domestic violence and its impact. These steps include lobbying federal, provincial and territorial governments for paid leave, reasonable unpaid leave, options for flexible work
arrangements, guaranteed job security, and mandatory workplace training on domestic violence and sexual violence.
A national study by the CLC, its affiliates, and Western University's Centre for Research & Education on Violence against Women & Children found that over a third of people have experienced violence at the hands of an intimate partner or ex-partner. Over half of those who have experienced domestic violence say that at least one type of abuse has occurred at or near the workplace. Many reported that the violence made them late or miss work, often in the form of unpaid leave, and some survivors also reported actually losing their job. It is important for survivors of domestic violence to know that their employment and financial security will not be affected while they seek the help they and their family need.