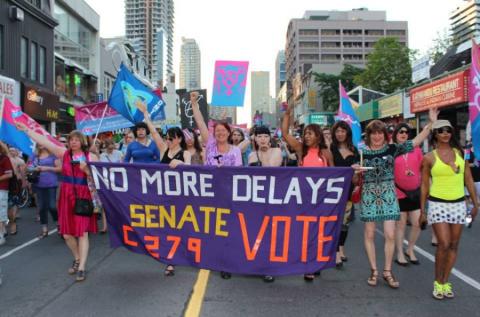 Update: On February 25, Senator Donald Plett put forward amendments to Bill C-279 that would strip it of its meaning and actually promote rather than prevent discrimination against trans people. We are calling on Senators to reject all amendments to the bill and vote to make it law now.
The Public Service Alliance of Canada is calling on the Senate to pass Bill C-279, the Trans Rights Bill, immediately. Any further amendments would effectively kill this key piece of human rights legislation, which was first introduced in 2011.
Bill C-279 is the latest in a series of proposed laws that would extend long-overdue human rights protection to transgender people.
Long delay
We are very concerned that it has taken so long for Parliament to adopt legislation that would not only ensure full human rights protection for trans people, but also help ensure their dignity and equality in the community.
Five Canadian provinces and one territory have passed legislation that prohibits discrimination based on gender identity. Despite an attempt by one Senator to drum up controversy, there have been no documented cases of trans people harassing people in bathrooms. And there are already provisions in the Criminal Code that prohibit voyeurism and sexual assault.
That such statements continue to be made is evidence as to why it is so important to adopt Bill C-279: to dispel myths and prejudices and to respect the human rights of all persons.
Bill C-279 has been before Parliament since October 2011 and has received considerable review and debate since then. It was adopted by the House of Commons almost two years ago. Its progress at third reading in the Senate in June 2013 was only halted due to the prorogation of Parliament that summer.
Your committee has studied the bill and it is now on the verge of clause-by-clause review.
Urgent action needed
We urge the Senate to support this bill in its present form as adopted by the House of Commons, without any amendments, so that after these many years it can finally become law. The trans people in our union and in our communities deserve full human rights protection, as do all Canadian citizens.