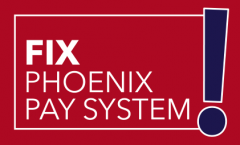 PSAC, along with 13 other bargaining agents representing federal government employees, now have an order from the Federal Court outlining obligations the employer must meet as it works towards a resolution of the Phoenix debacle. 
Included in the court order is better access to help for people on disability, maternity, and parental leave. It also requires the employer, the federal government, to maintain the staffing resources necessary to resolve the on-going pay problems.
According to the court order, the employer must provide the Union Management Consultation Committee with information and access to expertise. The UMCC has already been a forum for PSAC and the other unions to bring forward Phoenix related problems and work with the employer to find solutions. For example, the compensation process for phoenix related costs incurred by employees was established through this committee.
Access to more information about what went wrong with Phoenix will help PSAC to push the government to ensure they don't follow a similar path in future modernization projects.
This is not the end of the court application, which was filed in June. PSAC and the other unions can - and will - head back to the courts if we don't believe the government is working with us to fix the problems caused by Phoenix.