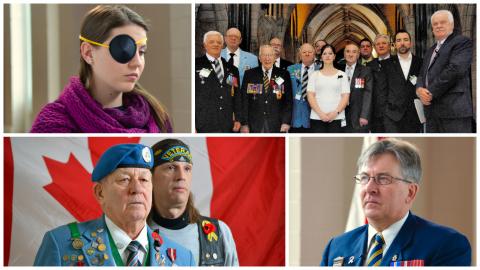 The Public Service Alliance of Canada commits to honouring Canada's veterans by continuing to fight for the crucial public services they need and deserve. This includes holding the Liberal government to its promise to re-open nine Veterans Affairs offices that were closed in 2013 and 2014.
Drastic cuts to Veterans Affairs staff and services under the previous Conservative government have meant that veterans are not getting the care they need and deserve. This included the decision to shut down nine District Veterans Affairs offices in Corner Brook, Charlottetown, Sydney, Windsor, Thunder Bay, Brandon, Saskatoon, Kelowna and Prince George.
Since the offices were closed, veterans said they now must drive for hours to see someone in person or wait on hold on the phone. In a series of testimonials launched by PSAC last year, veterans spoke out about the impact of the office closures on their lives.
Veterans had a significant impact on the federal election. In the vast majority of ridings where the offices were closed in 2014, citizens chose not to elect or re-elect Conservative candidates.
However, there is still work to be done. In addition to re-opening the offices, the Liberal Party has pledged to hire new service delivery staff and implement all of the Auditor General's recommendations on enhancing mental health service delivery to veterans.
We will continue supporting our veterans by lobbying the new government to fulfill their election commitments.
Veterans fought for us. We pledge to keep fighting for them.