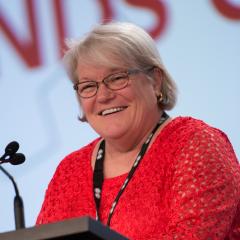 Robyn Benson, PSAC National President is urging the Liberal government to make proactive pay equity legislation a reality without further delay.
"Over 10 years ago, a federal pay equity task force produced a concrete set of recommendations to implement a proactive law," said Benson. "The time to put these recommendations into law is long overdue."
Speaking to the House of Commons Special Committee on Pay Equity, Benson pointed out the problems women in the federal sector face trying to achieve pay equity.
"Our union has pursued pay equity complaints that have taken literally decades in some cases to be resolved", added Benson. "We have members in their eighties calling our offices desperate to receive the money they're owed. Sadly, it's too late for some. This is not what pay equity was intended to do."
Impossible to file complaint
It is difficult for unions and virtually impossible for women without a union to successfully pursue a complaint to the Canadian Human Rights Commission under the current law because it is
highly adversarial
requires legal expertise
takes an excessive amount of time and resources
PSAC supports task force's recommendations
All employees in the federal jurisdiction be covered by the new pay equity law, including part-time, casual, seasonal and temporary workers and those without a union
Pay equity be expanded beyond gender to include Aboriginal workers, workers of colour and workers with disabilities
Workers and their unions must be involved in developing pay equity studies and maintaining pay equity over time
A commission be set up to help employers, employees and unions
An expert tribunal also be set up to quickly decide any disputes