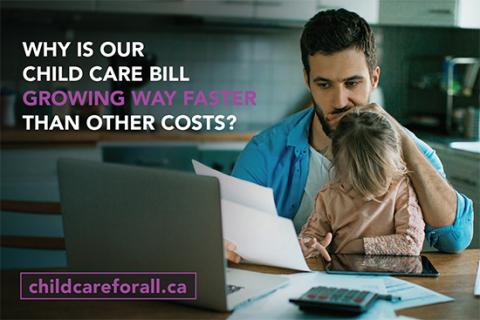 PSAC activists across the Atlantic region urged the federal government to invest in high quality, universal child care for all Canadians during the House of Commons Finance Committee hearings in October.
Mark Power, Local President for UHEW Local 9001U, and Matt Suchs from CEIU Local 90113, made a presentation about what it would take for Canada to adopt a child care system that worked for all Canadians at the hearing in St John's, NL October 16.
Meanwhile in Nova Scotia, Rhonda Doyle-LeBlanc, Director for Women's Maritimes for PSAC Atlantic, also made a presentation on child care at the hearing in Halifax, NS October 17.
Child care campaign working
PSAC, along with the Child Care Advocacy Association of Canada and others, have lobbied the federal government to take a leadership role and build a quality, affordable child care system that all families can access wherever they live.
Recently, PEI and New Brunswick have signed bilateral agreements with the federal government to expand and improve early learning and child care services. The three-year bilateral agreements say how the federal government's transfer payments to the provinces for child care will be spent.
The agreements give New Brunswick $30 million, while PEI receives $10.5 million for a total of $40.5 million over three years. The federal funds will be directed to targeted groups of children and parents considered to have the greatest need.
In their 2017 budget, The Liberal government made a long-term federal commitment to early childhood education and child care of $870 million over 10 years, but that amount is not enough to ensure a universal, affordable system across Canada.
Child care advocates say that Canada needs to spend at least 1% of GDP to put Canada on par with OECD countries with fully developed systems of early childhood education and care.
Get involved
You can show your support for accessible, affordable child care by signing our petition at childcareforall.ca!