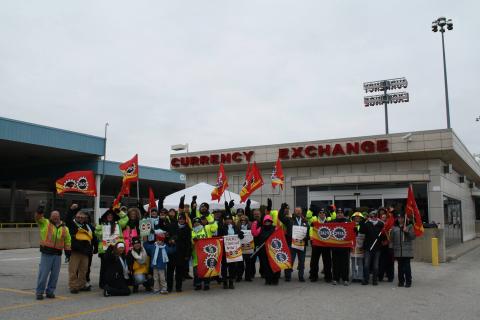 Forty-seven workers at the Blue Water Bridge in Ontario walked off the job on November 21 after their employer, the Federal Bridge Corporation Limited (FBCL), walked away from the bargaining table.
The workers include toll collectors, cleaners, maintenance workers and currency exchange cashiers.
FCBL is a Crown corporation based in Ottawa and reports to Liberal Transport Minister Marc Garneau.
Unprecedented range of concessions demanded by employer
FBCL demanded major concessions which would negatively affect benefits, pensions, maternity and parental leave, hours of work and scheduling.
When the workers refused to accept the concessions, FBCL walked away from the table giving the workers little choice but to strike.
Rally in Ottawa
If you are in Ottawa, please show your support!
A rally in support of strikers is being held at noon on Thursday November, 24, 2016 at FBCL headquarters, 55 Metcalfe Street.
More details are posted on the PSAC NCR event page.