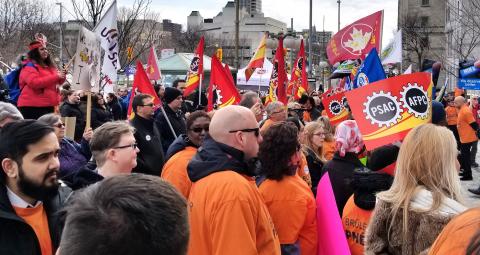 Public Service Alliance of Canada members across Canada are taking action February 28 to mark the second anniversary of the disastrous Phoenix pay system.
While PSAC is encouraged by the funding commitment for Phoenix in the 2018 federal budget, the government has still failed to offer federal public service workers an exemption from paying back the gross amount for overpayments.
Our members complied with this government's instructions to report overpayments by January 19 and yet thousands of members will still need to pay back the gross because of the government's inability to process their reports.
"The government is finally listening to our demands thanks to the hard work and pressure of our members," said PSAC National President Robyn Benson. "But we will only have a decisive victory when our members are finally made whole, and they're paid correctly and on time. Until then, the government is not off the hook," added Benson.
PSAC members will continue to pressure Prime Minister Trudeau until he delivers:
An immediate end to forcing workers to repay the gross amount when they've been mistakenly overpaid.
 
Damages for the many hardships Phoenix has caused these workers, including untold stress, and the time spent dealing with their pay problems.
 
A permanent increase of compensation advisors in both the departments and the pay centre to run the system and provide one-on-one support for employees dealing with pay problems.
 
A whole-person approach to resolving pay issues for federal public service workers before recovery of overpayments begins. A compensation advisor should reconcile all pay problems for each employee, because thousands of workers are experiencing a number of pay errors.
Federal public service workers deserve to be paid correctly and on time, every time, for the work they do.