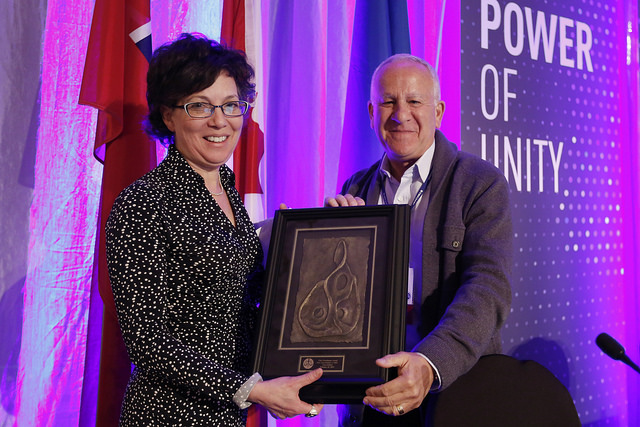 Public Service Alliance of Canada's senior legal officer, Lisa Addario, was awarded the 2016 Touchstone Award by the Canadian Bar Association over the weekend.
Groundbreaking work on Johnstone case
The Canadian Bar Associated recognized Addario's groundbreaking work on the Johnstone v. Canada Border Services Agency case. There, the Federal Court of Appeal ruled in May 2014 that CBSA discriminated against PSAC member Fiona Johnstone by refusing to give her a fixed-shift schedule to arrange for childcare.
"Lisa Addario's work to advance gender equality and the rights of persons with disabilities on a national basis has had a widespread and lasting impact on the state of human rights in the workplace," said Mark L. Berlin, chair of the CBA's Equality Committee.
"Her efforts in litigating important equality issues, her work with the International Labour Organization, and her participation in the human rights certification program at Osgoode Hall are further examples of her commitment to equality rights in this country," he added.
Striving for all workers
PSAC National President Robyn Benson congratulated Addario on her award and accomplishments as a valued staff member of the PSAC.
"Lisa has advanced women's rights in the workplace and equality in general. Her award is a testimony to PSAC's efforts in providing workers the best quality support in the struggle for workers' rights," said Benson.
The significance of the award  
Addario joined PSAC in 2003 and is currently senior legal counsel. Since 2013 she has been an occasional lecturer and faculty member with the Human Rights Certificate program at Osgoode Hall Law School.
"I am honoured by the recognition this award brings. What is equally important is its broader significance - the Canadian Bar Association has recognized the PSAC's unwavering commitment to advancing equality and breaking new legal ground in a labour context. This acknowledgement is a strong affirmation of our union's principle of equality and justice in our workplaces, "concluded Addario.