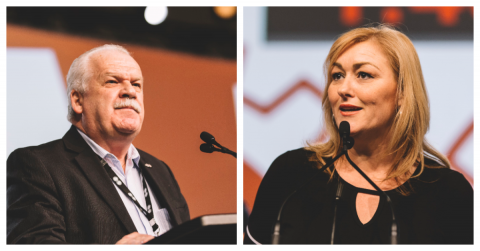 Chris Aylward was elected National President of the Public Service Alliance of Canada, and Magali Picard as the new National Executive Vice-President, at the union's national convention in Toronto.
"I'm honoured the members' delegates placed their trust in me to lead our union," said Aylward. 
"Our members are facing tough situations whether it's the disastrous Phoenix pay system, or whether they work for other employers in precarious jobs and are struggling to make ends meet," said Aylward.
"I will work to mobilize the full strength of our union to win better conditions for our members, and to strengthen the public services they deliver for the benefit of all in Canada." 
Approximately 500 delegates at the PSAC national convention cast a vote in the PSAC elections. In addition to the National President and Executive Vice-President positions, Sharon DeSousa was elected as the alternate Executive Vice-President. She will assume the position and duties of the Executive Vice-President should Magali Picard no longer be able to serve in the position for any reason.
"The delegates at our convention have set our union on an ambitious course," said Picard. "We're a union that is working to help Canadian residents and communities and it's an honour to be part of the leadership team that will carry out that work and build our movement."
All three officers were elected for a three-year term.
----------------------------------------------------------
Chris Aylward was elected as the National President of the Public Service Alliance of Canada at PSAC's 18th National Triennial Convention in May 2018. He previously served as PSAC's National Executive Vice-President from 2012-2018.
Born and raised in Newfoundland, Chris has been an active member in PSAC for over 28 years. His involvement in our union started when he became a shop steward with Local 90000 - Union of Taxation Employees (UTE), at the St. John's Taxation Center.
In 1990, Chris transferred to Canada Revenue Agency (CRA) Headquarters in Ottawa, where he became active in Local 70000 - UTE. Chris played a major role in the 1991 General Strike as a communications officer for the National Capital Region (NCR).
In 1996, Chris was elected as UTE's Alternate Regional Vice President for the NCR, and then became the full-time Regional Vice President (RVP) in 1997. During his 14 years as UTE's NCR RVP, Chris spent many of those years as a member of the bargaining team. He helped to achieve important benefits and ground-breaking improvements for PSAC members working for CRA that were then negotiated for more of our members under other collective agreements.
Chris is a vocal advocate for the rights of all members to a safe workplace, a fair wage, and a strong collective agreement.
------------------------------------------------------------
Magali Picard was elected as the National Executive Vice-President for the Public Service Alliance of Canada at PSAC's 18th National Triennial Convention in May 2018. She previously served as the Regional Executive Vice-President (REVP) for PSAC's Quebec Region from 2012-2018.
She chairs the PSAC Quebec Council, is Vice-President of the Fédération des travailleurs et travailleuses du Québec (FTQ) and a member of the FTQ Solidarity Fund Board of Directors.
At the regional level, organizing, education, political and social action, equity and women's programs, area councils, directly chartered locals and separate employers are under her purview.
Prior to being elected as REVP, Magali had served as Alternate Vice-President of PSAC-Québec since the 2008 PSAC-Quebec Convention. Regional political action was her primary responsibility. As well, she was part of the 2006, 2009 and 2012 PSAC National Convention Finance Committee. In 2015, Magali chaired the Collective Bargaining Committee. She is a proud member of the National Aboriginal Peoples' Network.
From 1998 to 2005, Magali was active in her UVAE local where she held several positions. She also served as UVAE National Vice-President, Québec Region from 2005 to 2012.