The impact of domestic violence against women doesn't stop at home. It affects workers and their workplaces. This was the main message at a recent women's forum focusing on the issue of domestic violence.
"The evidence of a national survey conducted for the Canadian Labour Congress (CLC) shows us this is an important issue that affects our members," said PSAC national president Robyn Benson during the forum. 
"Unions and employers have a responsibility to victims of domestic violence. That is why we organized the forum, the first union to do so."
Participants and speakers spoke of the need to start the crucial work of making workplaces safer.
Alarming statistics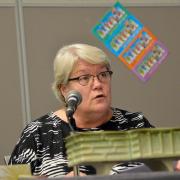 This is an important issue that needs to be tackled head on.  More than one out three working women have experienced domestic violence in their lifetime (37.6%). Seven per cent are currently victims of violence. Of the more than 100,000 women who are PSAC members, at least 7,000 go to work every day and are in abusive relationships.
Victims of domestic violence impacted at work
There is clear evidence that domestic violence follows its victims to work. The CLC survey confirmed that victims can:
be disciplined for lateness, absenteeism and poor work performance that is a result of the abuse
lose their jobs and financial independence
continue to be abused and threatened by email, phone calls and stalking at work
suffer from isolation because co-workers don't understand what is happening
To raise awareness and provide tools, the CLC has recently launched an online resource centre on domestic violence at work.
Connecting women from across the country
The forum was a high-level information and discussion session designed to foster dialogue and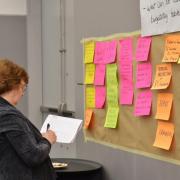 exchange ideas between members, elected officials and staff. Women from across the country participated.
The discussion was enhanced by presentations from women unionists, academics, representatives from transition houses and support services, the Native Women's Association of Canada and the Disabled Women's Network.
Participants brainstorm ideas for concrete action
take the issue to the bargaining table
address the issue through law reforms, mobilizing and political action 
foster an "intersectional" approach to the issue taking into account women who are Indigenous, living with a disability, immigrant and refugees, lesbians and transgender.
include the topic in the regional and national women's conferences
develop educational tools
promote and strengthen collaboration with women's organizations and community partners
Testimonial from Maria Fitzpatrick
Forum guest speaker Maria Fitzpatrick touched the forum participants with frank talk of her experience as a victim of domestic violence.
Fitzpatrick is a former PSAC national capital region regional executive vice-president. She moved back to Alberta and was elected as an NDP member of the legislative assembly in the 2015 provincial election
"Three times I left with my kids. Twice I went to shelters. Twice I was forced to return or live on the street. Both times I returned and the violence got worse and the threats, which he could have carried out at any time, became more frequent and more intimidating. Broken bones, black eyes, sexual assault and two miscarriages as a result of this abuse were only some of the physical atrocities I had to endure.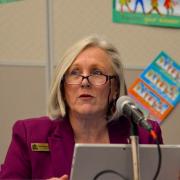 "If you see someone at work and your gut tells you something is wrong, you need to do something. "If you see some of the signs, like excess make-up or clothing covering up bruises, let the person know you're there for them and you can help them get a plan together to get out and get out alive.
"Workplaces need a plan to support victims of domestic violence so they can be safe and move on with their lives. Management doesn't always do what they should so we need to take a stand."
"Violence is used to intimidate and bully us so that we won't say anything or do anything. We have to stop this. All of us have to take some responsibility."
PSAC will review the input from the forum and develop a strategy in early 2016.