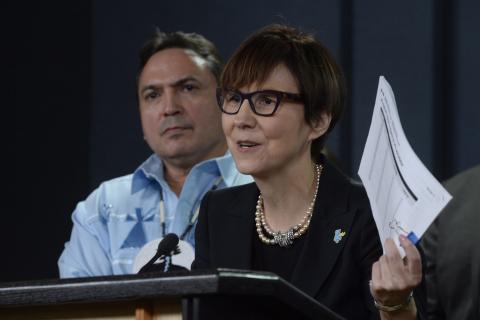 "Kids win." That's how Dr. Cindy Blackstock describes the recent decision by the Canadian Human Rights Tribunal finding that there has been widespread discrimination against children who live on reserve. Legal analysts say this decision will forever alter the way in which the Canadian government provides services to First Nations citizens.
Dr. Blackstock, the executive director of the First Nations Child & Family Caring Society, launched a human rights complaint along with the Assembly of First Nations in 2007, alleging that the funding provided to child welfare services in First Nations communities was discriminatory in that it amounted to 34 per cent less than what all other children in Canada receive.
Legacy of residential schools
The funding system made it more economical to place Indigenous children into foster care than to provide culturally appropriate services on-reserve. There are currently more children in care then were enrolled in the Indian Residential School system at its peak.
The landmark decision states that "Jordan's Principle" has not been applied in a consistent manner to Indigenous communities.
The goal of Jordan's Principle is to ensure that children on reserve have access to the same services as other children. It was named after Jordan River Anderson from Norway House Cree Nation in Manitoba, who spent more than two years in hospital unnecessarily because of funding disputes between multiple federal and provincial government departments. The dispute was about who should pay for his at home care. He died in hospital at age five – having never spent a day in a family home.
Dogged determination
Dr. Blackstock devoted countless hours of time and research to the case, demonstrating a dogged determination to ensure children were treated fairly. For her efforts, her organization lost all government funding, she was banned from important meetings between the federal government and the Assembly of First Nations and her personal and professional movements were systematically monitored by the federal government – to the point where the government was found guilty of violating the Privacy Act.
PSAC's National Aboriginal Peoples Network supported Dr. Blackstock's efforts and our union's Indigenous members are thrilled with this victory for the rights of First Nations children.