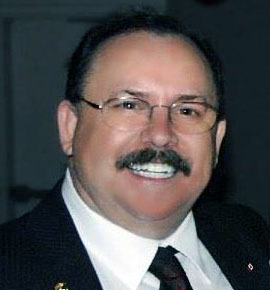 Wayne Kelley is the Director for LGBTQ2+ members on the PSAC Atlantic Regional Council, where he works tirelessly and proudly to advocate for LGBTQ2+ members' rights. 
He was born in Windsor, Nova Scotia, and completed a two-year program in Hotel Management where he graduated in the top five of his class. Wayne has always worked in a unionized environment where he has been a champion for human rights.
His union activism began at the urging of fellow union members when he worked at CFB Greenwood. He has been a strong advocate for employment equity early on in his union activities and represented the union at employment equity meetings. He continues to be a proud member of UNDE Local 80403.
Wayne is busiest during Pride season when he flies the PSAC flag at Pride parades in both big and small Atlantic Canadian communities. He is the president of the Annapolis Valley Labour Council and the PSAC Atlantic representative on the Anti-Racism and Human Rights Committee for the Nova Scotia Federation of Labour. His passion lies in ally building, with a goal of achieving equity for all. Wayne believes that the struggle for diversity and inclusion is a life-long endeavor.
Wayne has been with his partner Willis Bezanson since 1981.