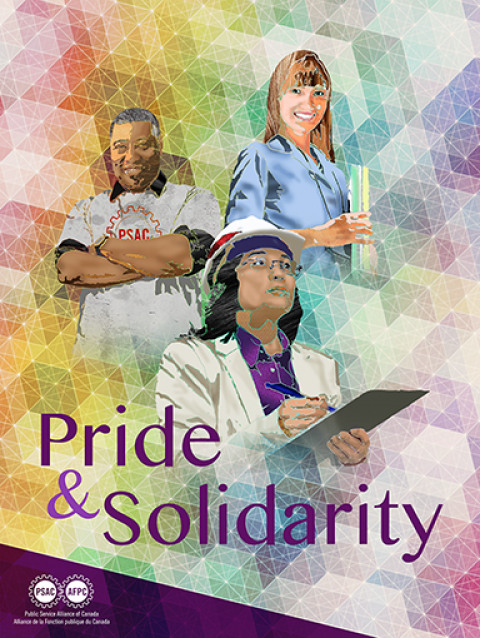 PSAC is committed to advancing the rights of gay, lesbian, bisexual and transgender people in Canada.
PSAC fights for human rights
Unions have been powerful forces for equality and justice in the workplace, and have made significant gains for GLBT workers in Canada.
Our union led the way in negotiating protection based on sexual orientation, even before the Canadian Human Rights Act was amended to prohibit discrimination against gays and lesbians. We also won ground breaking provisions on same-sex spousal union leave, and protection against discrimination based on gender identity.
PSAC has also been fighting for the legal protection of trans human rights. Bill C-16 would amend the Canadian Human Rights Act and the Criminal Code by adding protections against discrimination and violence based on gender identity or expression. The bill was passed by the House of Commons in October, 2016 and is now before the Senate. Delegates to the Pride conference signed a petition demanding that the Senate move quickly to adopt Bill C-16.
PSAC National Equity Conferences
This March, more than 500 PSAC members from five equity groups and their allies attended the union's triennial National Equity Conferences to raise awareness, deepen their knowledge and strategize around issues of discrimination and equality.
GLBT members gathered for the Pride conference to attend workshops on topics such as identity, equity at work, and defending trans members' rights in the workplace.
Delegates also adopted a number of resolutions that will go to the PSAC Triennial Convention in 2018. The resolutions cover the following issues:
The use of gender inclusive language in the union
Organ and blood donation by gay man
Changing the GLBT acronym to LGBT+ in the PSAC Constitution
Access to PrEP (Truvada) medication for HIV
Delegate seats for equity members at PSAC Triennial Convention
Much to celebrate
Despite the challenges we face, GLBT people in Canada have much to celebrate and be proud of. Canada's Pride celebrations showcase the unity and diversity of the GLBT community and its allies. We encourage our members to participate in and support Pride celebrations across Canada this summer.