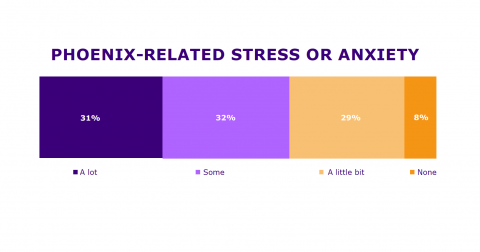 Two surveys conducted by the Canadian government and the Public Service Alliance of Canada (PSAC), respectively, confirm that federal public service workers have suffered a number of significant hardships that should be remedied through damages.
Figures released from the Public Service Employee Survey this past week found that 93% of those impacted by Phoenix had to spend hours of their own time to try to resolve their pay problems. Almost 50% spent days trying to get paid correctly and 14% said it has taken them 40 hours or more.
In addition, polling conducted by PSAC confirmed that Phoenix has had a detrimental impact on the mental health of three out of four PSAC members in the federal public service and has also hurt the ability of half of them to pursue opportunities for growth and advancement in their workplaces. Some members (6%) have even delayed their retirement due to Phoenix.
"Phoenix has clearly had a devastating effect on the mental health and well-being of federal public service workers," said PSAC National President Robyn Benson. "Employees deserve compensation for the stress and anguish Phoenix has caused for more than two years, as well as the time they have spent dealing with their pay problems."
"The unfortunate part is that the brightest and the best are being held back," added Benson. "No one wants to change their position for fear that they'll be Phoenixed."
Key findings from the Public Service Employee Survey:
Two thirds of PSAC members affected by Phoenix (66%) said their pay or other compensation had been affected by Phoenix issues.

22% of federal public service workers reported problems with missing pay, while 34% have been underpaid and 18% have been overpaid.

The vast majority of respondents (93%) have spent hours and days of their time attempting to resolve their pay problems.

Nearly half (48%) have spent 1-9 hours, 18% have spent 10-19 hours, 10% have spent 20-29 hours, 4% have spent 30-39 hours and 14% have spent more than 40 hours resolving their pay or compensation issues.
Key findings from the PSAC survey:
Over eight in ten (82%) PSAC members have been personally affected by a Phoenix problem, with two in ten (18%) experiencing great hardship.
Three quarters of PSAC members affected by Phoenix (76%) have experienced negative impacts to their mental health because of Phoenix issues.

More than six in ten have had negative impacts to their personal lives or ability to work.

Half of PSAC members (50%) affected by Phoenix report that their concerns have affected their work choices.

One quarter (25%) have delayed transferring positions or pursuing new opportunities
A quarter (24%) avoided asking for leave
One in five (20%) have not accepted an acting assignment
PSAC's poll was an Environics Research online poll of 2,053 PSAC members commissioned by PSAC with a margin of error of plus or minus 2.2 points 19 times out of 20.