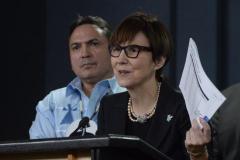 Schools in First Nations communities are underfunded and the federal government is far from meeting the same level of investment compared to provincial education systems. That's what the Parliamentary Budget Officer concluded in his most recent report.
Government is failing Indigenous youth
Indigenous Peoples have survived generations of injustice and neglect. Years of inadequate costing and planning, and a two per cent cap on education funding since 1996, has left children in these communities without proper schools, equipment and services.
Cindy Blackstock, executive director of the First Nations and Family Caring Society, along with the Assembly of First Nations, have fought hard to end this unfair situation. Earlier this year, the Canadian Human Rights Tribunal ruled that the federal government discriminate First Nation children on reserve by falling to provide the same level of child welfare services. The government has yet to comply, even after being ordered to do so, twice.
The Liberal government must do better than what it offered in Budget 2016 in order to make a significant impact on the lives of future generations.
Actions are louder than words
The Public Service Alliance of Canada is calling on the federal government to adequately fund First Nations education.
"The discriminatory underfunding of First Nations education needs to stop. The Liberal government needs to fix this injustice immediately. First Nations children have been bearing the burden of underfunding for too long," said Robyn Benson, PSAC National President.
PSAC has been a leader in protecting and defending the rights of Indigenous Peoples for decades, partnering with First Nations communities on issues such as safe drinking water, justice for missing and murdered Indigenous women and improving services for First Nations children, to name a few.
"Teachers in First Nations communities have fewer resources than their provincial counterparts. This is unfair to Indigenous children, who deserve a quality education, added Benson. "The PBO has sounded the alarm – this situation needs to stop."