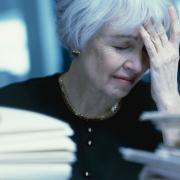 PSAC president Robyn Benson is calling on Minister Tony Clement to stop misleading Canadians about sick leave in the public sector.
The call comes in the wake of today's release of a report on sick leave by the Parliamentary Budget Officer called the Fiscal Analysis of Sick Leave in the Federal Public Service. In summary:
The report reveals the gaps in the sick leave information that Treasury Board collects.
The Treasury Board Secretariat claims that the "average" public servant takes 18.26 days per year, but this includes time missed due to workplace injuries and unpaid sick leave.
PSAC is concerned that the report relies on Treasury Board averages to estimate that the number of paid sick days taken by each public sector worker is closer to 11.5. This number doesn't accurately reflect what most federal government workers actually use for a number of reasons: First, it is skewed by a small number of workers – like those in high-risk and high-stress workplaces such as correctional services – who need more time off because of the nature of their work. Second, the number also includes workers with extended illnesses who are using up sick leave credits before qualifying for long term disability.

The PBO says that the data provided by TBS "does not enable analysis to determine how significantly sick days have been over-stated due to disability leave." The report repeatedly cites problems with the data received by Treasury Board, making deeper analysis difficult. We do know that the averages are skewed by the fact that workers are forced to drain their sick leave banks before going on Long Term Disability. And the fact that long-term leaves are on the rise confirms the Global Business and Economic Roundtable on Mental Health's assertion that there is a "mental health crisis" in the federal public service.
Treasury Board has inflated the size of the deficit by costing sick leave as an accumulated deficit. This recent change in government accounting systems has created an inflated view of the cost of public sector sick leave.
It says that comparing public and private sector sick leave is like comparing apples to oranges
The PBO report confirms Statistics Canada's analysis of the different demographics in the federal public service versus the private sector. The average public sector employee is older, more likely to be a woman and more likely to be unionized. The over-representation in those three areas means that the average public sector worker will more likely to take paid time off when they are sick or have children who are ill. When these three factors and others are accounted for, Stats Can says the average difference in sick leave time taken is closer to 1.1 days.

If private sector workers are not given enough paid sick days (or any at all), they are more likely to go to work while ill, or take unpaid time off. Private sector workers often lack many of the other forms of paid leave accessible to public sector workers. None of this appears in the data and therefore skews the resulting comparison.
PSAC's position:
Sick leave is a right that we negotiated for our members, because no one should have to go to work when they are ill. The recent resurgence of the H1N1 flu virus demonstrates the importance of not bringing dangerous illnesses to work.
The concept of "daily averages" is misleading. Without seeing the data, or knowing what the median use of paid and unpaid sick leave is, we can only estimate what the true picture is. And it seems far more likely that the majority of federal government workers are taking between 0 and 8 days of paid sick leave per year – not 18.

The growth in the number of sick days taken in the public sector over the last 10 years can largely be attributed to the surge in long-term disability claims. Mental health issues and overwork in the federal public service need to be addressed.
Every hour of paid sick time in the federal public service is approved by a manager, with absences longer than a few days requiring a doctor's note. Managers currently have the tools and authority to address any suspected misuse.
We need to improve the current system, rather than trash it or contract it out. We will continue to fight to ensure that our members have access to paid time off when they are sick.
For more information, see PSAC's fact sheet on sick leave in the federal government.