December 6, 2019 marks the 30th anniversary of the Montréal Massacre, where 14 young women were killed at l'École Polytechnique de Montréal because they were women. We remember: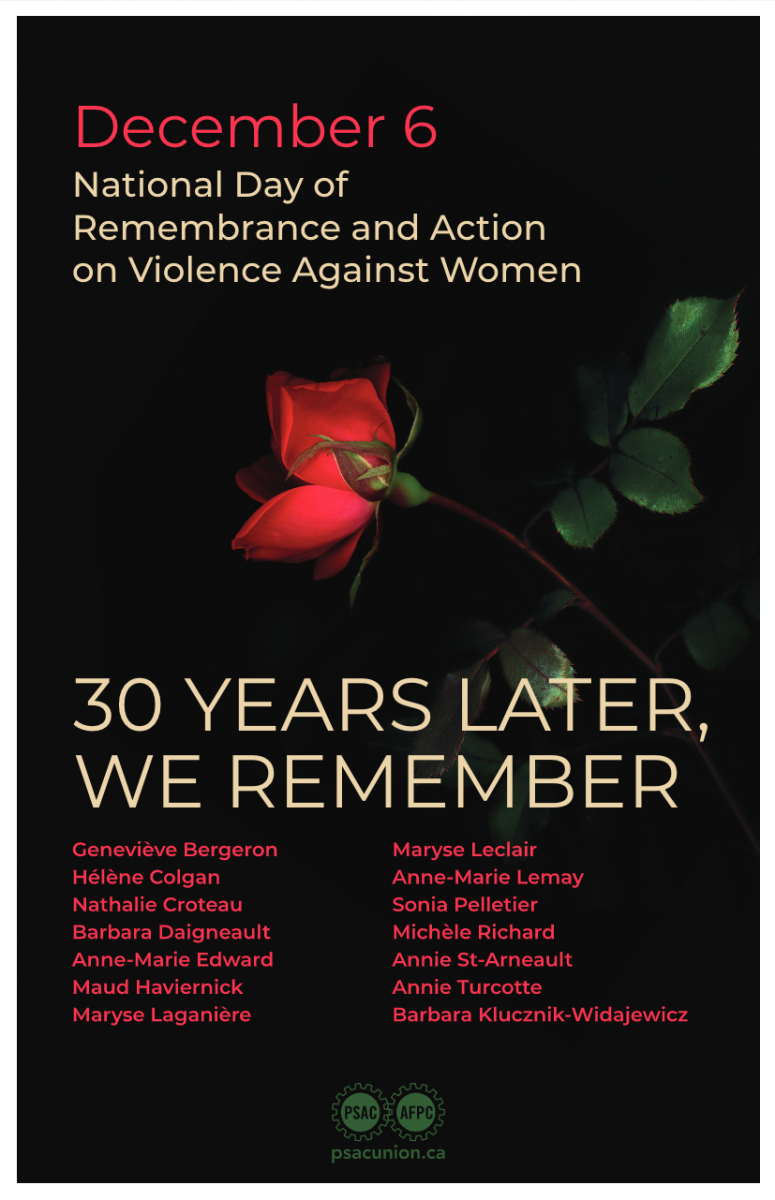 Geneviève Bergeron 
Hélène Colgan
Nathalie Croteau
Barbara Daigneault
Anne-Marie Edward
Maud Haviernick
Barbara Klucznik Widajewicz
Maryse Laganière
Maryse Leclair
Anne-Marie Lemay
Sonia Pelletier
Michèle Richard
Annie St-Arneault
Annie Turcotte
On this National Day of Remembrance and Action on Violence against Women, PSAC members across the country renew their commitment to eliminate all forms of violence against women. In 2017, PSAC launched our 10 Days campaign calling on federal, provincial and territorial governments to provide 10 paid days leave for workers experiencing domestic violence. A worker may need time off to meet with lawyers, access counselling, attend medical appointments or relocate. Experiencing violence shouldn't mean a loss of pay.
Since then, the federal government has instituted amendments to the Canada Labour Code to include five days of paid domestic violence leave for workers in federally regulated workplaces, in addition to the ten days of unpaid leave for workers experiencing domestic violence already provided. This is a positive step forward, but still falls short of the 10 paid days called for by PSAC. As well, many provinces across the country have introduced domestic violence leave provisions to better support survivors of domestic violence and their families, but there is still more to be done.
Despite PSAC's continued work and commitment to ending gender-based violence, the following facts remain in Canada:
More than 1 in 3 women experience domestic violence through their lifetime.
Indigenous women are killed at six times the rate of non-Indigenous women.
Persons with disabilities are between 50% and 100% more likely than those without disabilities to have experienced violence by a spouse.
A woman is killed by her intimate partner approximately every six days.
Trans women are almost twice as likely as cisgender women to experience gender-based violence in their lifetime.
Gender-based violence continues to affect communities from coast to coast. Those living in rural, remote and northern regions, immigrants and refugees and Indigenous women continue to be amongst the most vulnerable populations.
On this day, PSAC calls on the federal, provincial and territorial governments to: 
implement all recommendations from the Calls for Justice;
implement the recommendations of the Truth and Reconciliation Commission;
provide workers with 10 paid days of domestic leave;
eliminate barriers to accessing legal and counselling supports for women experiencing violence; and
increase funding and access to women's shelters and sexual assault support centres.
Today and every day, we reflect on all the missing and murdered Indigenous women, trans women, women with disabilities, immigrants and refugees, and all women whose lives have been impacted by gender-based violence. PSAC commits to continue the work needed to ensure that our workplaces and our communities are free and safe from gender-based violence.