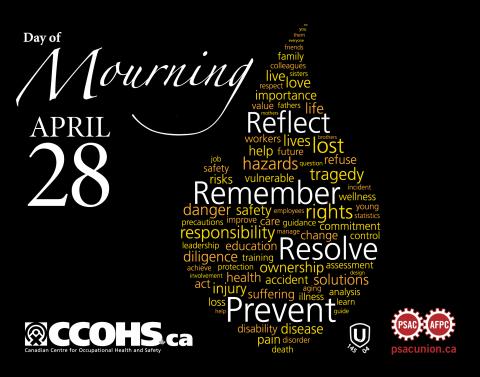 The National Day of Mourning, held on April 28, was established to remember those who have lost their lives, or suffered injury or illness on the job. It also recognizes those who have worked tirelessly to prevent exposures, injuries and fatalities on the job and to celebrate their victories. 
Asbestos: Still work to do
Last year's announcement that the federal government will ban asbestos is a victory for those who have lost someone they love, for those who know they are at risk of losing their own life, and for health and safety activists. 
This announcement is the culmination of decades of work by PSAC members and activists across the country.  Asbestos-related diseases steal the lives of over 2,000 Canadians every year and the federal Government's announcement is a big step in the right direction.
However, what is being proposed does not go far enough. An asbestos ban must go further than a simple ban on imports and a list of federal government buildings containing asbestos. 
Asbestos strategy needed
A national comprehensive asbestos strategy must be established to:
address the legacy of all the asbestos that currently exists in Canadian schools, homes, hospitals, universities, public buildings, infrastructure and waste facilities 
establish a registry of buildings used by the Canadian public which contain asbestos
ensure the federal government collaborates with all provinces and territories in meeting these requirements
Fair treatment of federal workers
In cases where employers are flagrantly violating the law, federal sector workers deserve fairness in the application of the Criminal Code of Canada, enshrined by the so-called Westray law.  If a worker is killed, either from an incident or an occupational disease, the consequences should be the same whether the worker is under federal or provincial/territorial jurisdiction.
The annual observance of the National Day of Mourning is an important reminder to establish safe working conditions for all, including the hope that someday no Canadian is exposed to asbestos.  Until then, this is neither the end of our remembrance nor the end of our fight.