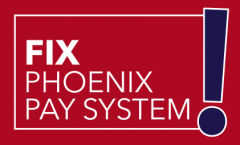 Minister Judy Foote has admitted that 700 compensation advisors should not have been laid off before the Phoenix launch, saying savings were sought at the expense of employees.
The Minister of Public Services and Procurement spoke yesterday to the House of Commons committee on Government Operations and Estimates, which is studying the Phoenix pay system. She also acknowledged that many good ideas on how to fix Phoenix have come from union members.
"PSAC warned that the mass lay-off of compensation advisors was a mistake, but our warnings about this were ignored," said Robyn Benson, PSAC National President. "However, our focus now is to do everything we can to help fix Phoenix."
Still no end in sight as year-end approaches
According to Minster Foote, 15,000 cases still remain in the backlog and would not provide a date for when these cases would be resolved.
The Minister could not provide a date as to when a "steady state" for the pay system will be achieved.
"All public service workers are asking for is to be paid correctly and on time," added Benson. "We will continue to meet regularly with representatives of the government until all Phoenix related matters are resolved for our members."
The government plans to provide another update on December 14.