On October 30, Public Service Alliance of Canada members took to the streets to protest proposed government changes to their sick leave and cuts to public services.
Atlantic
Close to 200 members came out in central Halifax for this day of action. Christine Collins, president of UCTE spoke about the Harper record and the importance of sick leave for all Canadians. Many members held up picket signs pushing for healthy workplaces. More pictures of the event can be found here.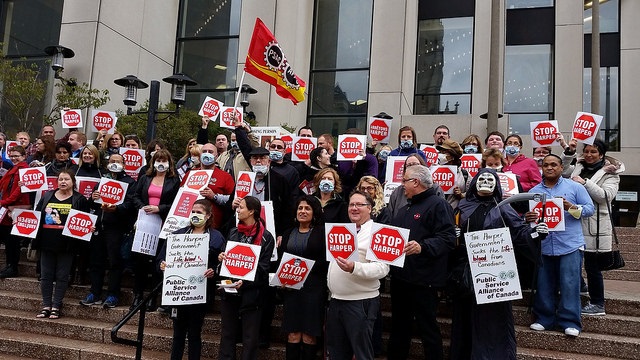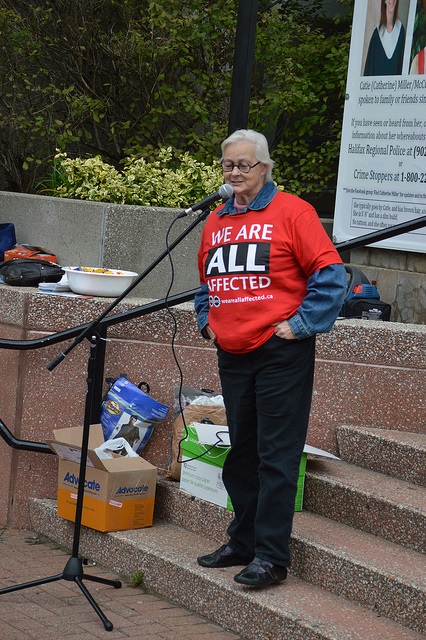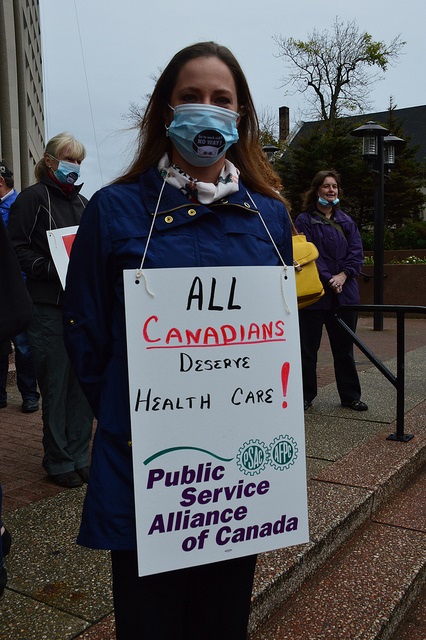 Quebec
Inspired by the Halloween theme of zombies, hundreds of members came together to demonstrate with a provincial coalition of unions in front of the Quebec Parliament building. They were there to support public services, protect their sick leave and promote healthy workplaces. Nathalie Rainville, president of the Quebec regional council emphasized that the demonstrators were public service workers but also citizens who oppose the Harper's cuts to public services. The event was covered by Radio Canada. More pictures can be found here.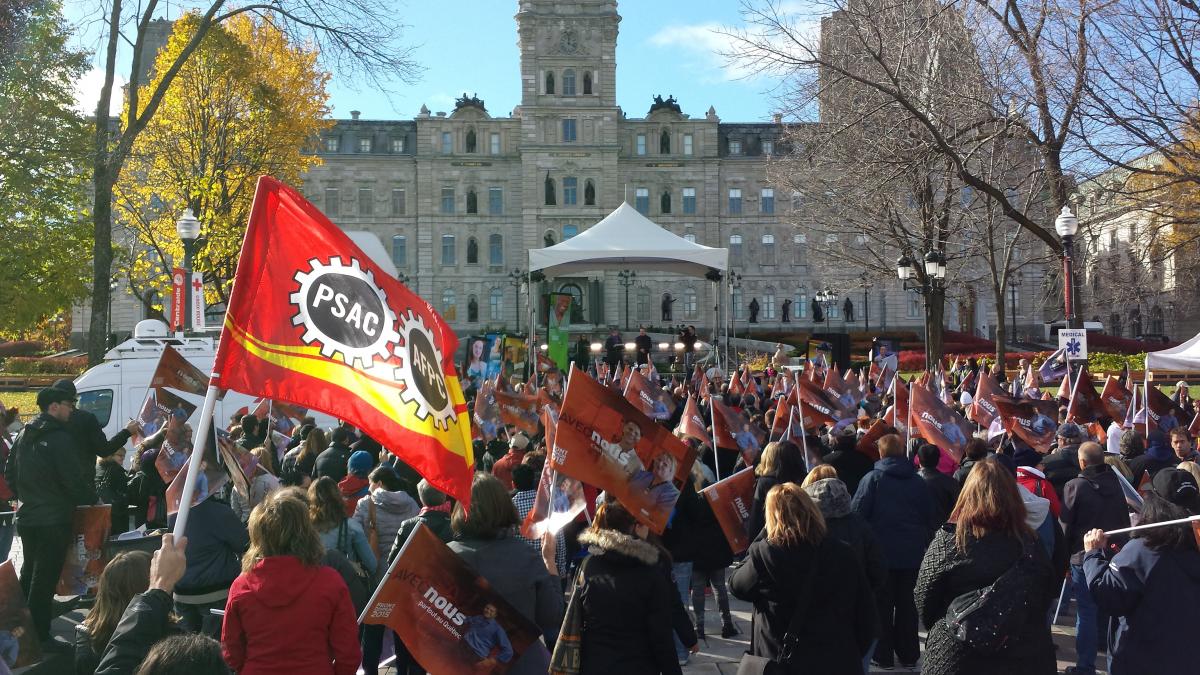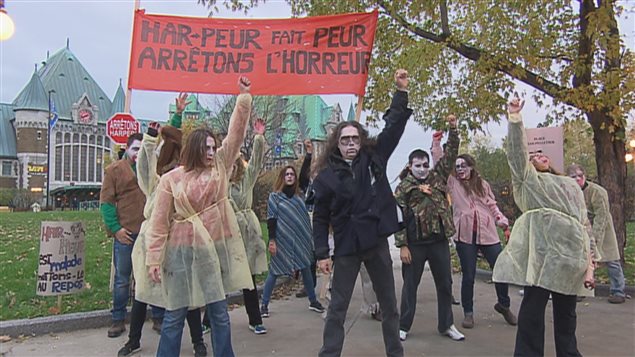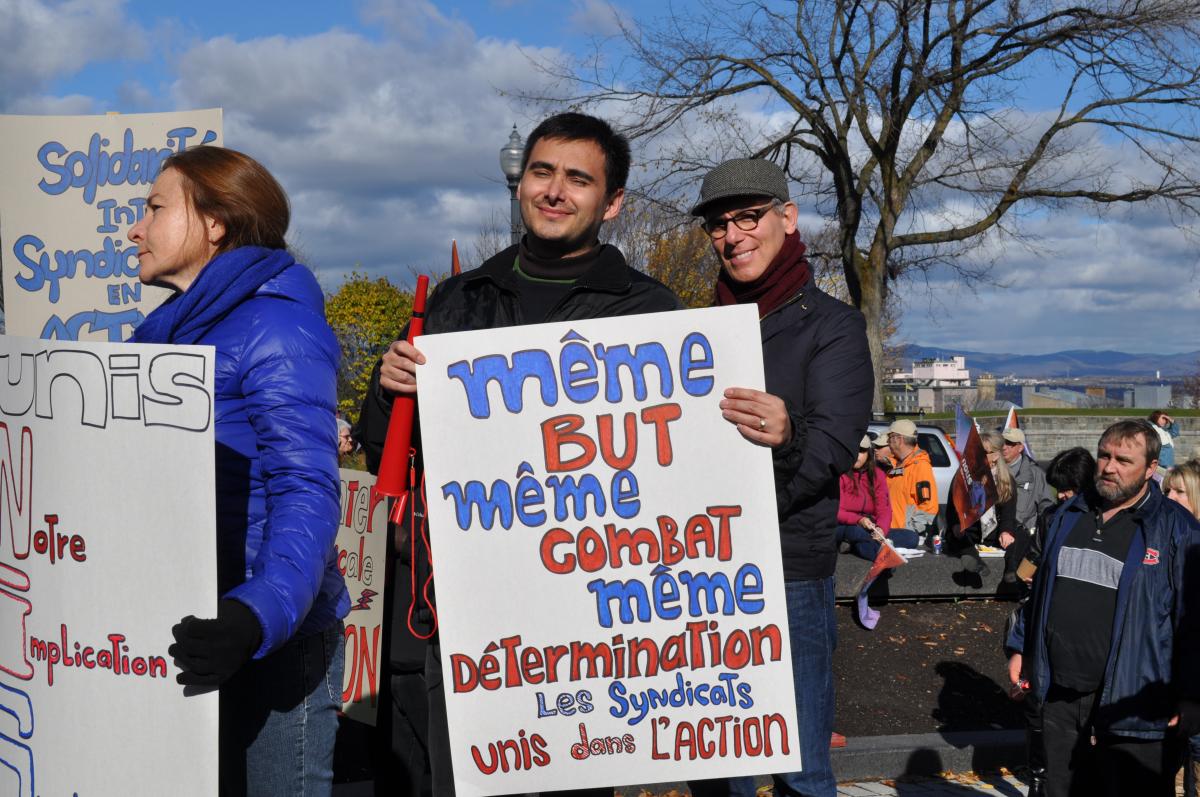 National Capital Region
The activity in Ottawa was held at the Place de Portage with members holding signs and marching in solidarity. The YouTube video of the parade can be found here.
In Gatineau, the day of action event was held at the Asticou cafeteria with members of local 70139 all wearing surgical masks. The members spoke against the government's "go-to work-sick" proposal and stressed the importance of showing solidarity with the union's bargaining teams. More pictures of the events can be found here.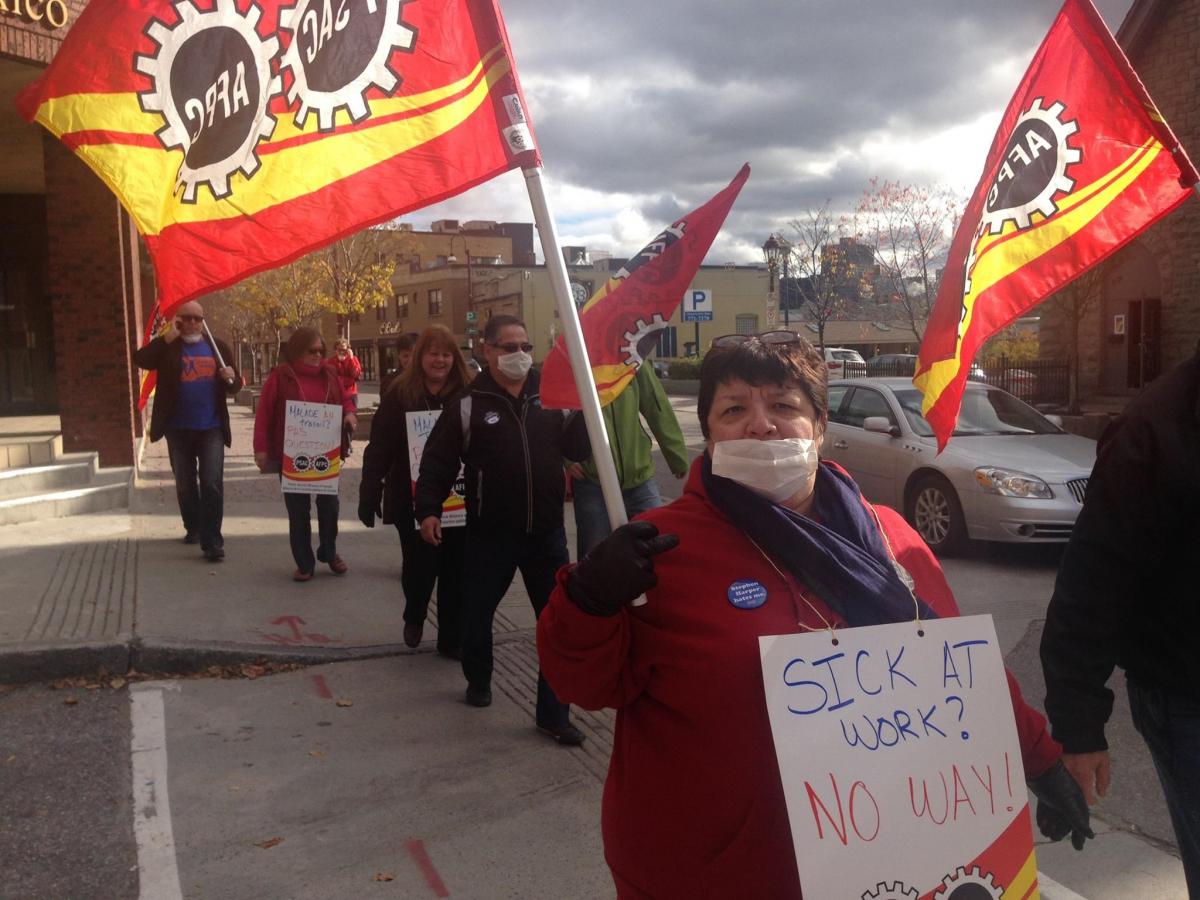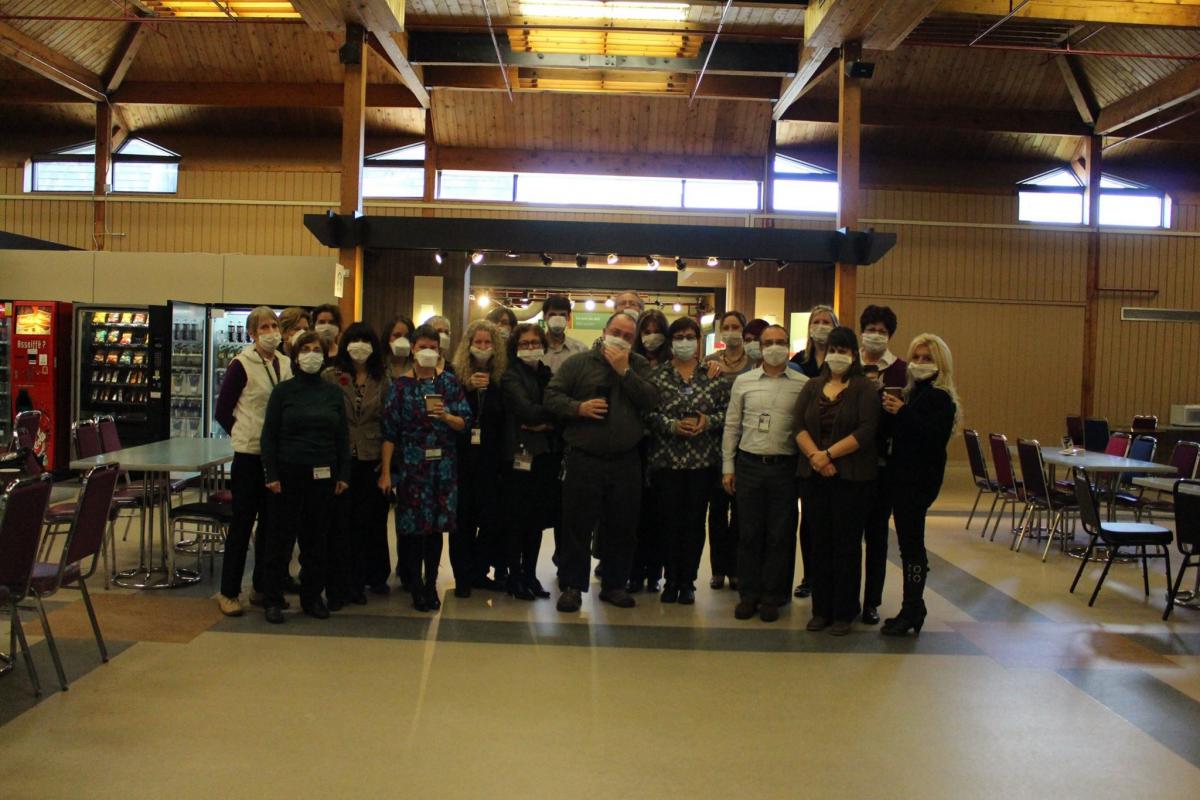 Ontario
In Chatham, the CEIU local had a great lunch hour info picket event with approximately 75 members coming out to the event. The Chatham Daily News and Blackburn News covered the event. There was also an information picket at the Judy LaMarsh building over the noon hour.
In Toronto, an information picket was held at the Arthur Meghen building. Members participated throughout their lunch breaks. Business cards with healthy workplace pledges were handed out, along with stickers and a flyer calling on members to take action on the 19th of every month. Locals in the GTA also participated by wearing white in their workplaces. More pictures of the event can be found here.
Prairies
USGE members working at Stony Mountain Institution dressed up as workers sick on the job.  PSAC members joined hundreds of labour activists in Regina for a labour rights rally at the Saskatchewan Legislative Building. The message was loud and clear: "We stand together in solidarity!"
In Edmonton, Treasury Board units held a multi-local event at Canada Place during the lunch hour with approximately 100 members in attendance.
Murray Pruden, Northern Alberta Geographical Rep on the Prairie Region Council, welcomed the crowd and introduced guest speaker Kate Hart, PA bargaining team member. Her message was clear: oppose concession bargaining.
Elsewhere in Alberta, three USGE worksites showed their support for our bargaining teams by holding informational pickets, including members working at Edmonton Institution, Pê Sâkâstêw Centre (Hobbema, AB), and Drumheller Institution. Members working at Bowden Institution (Innisfail, AB) held a solidarity meeting to discuss the importance of sick leave and standing together during the bargaining process. Members working at Grande Cache Institution held a demonstration for healthy workplaces and sick leave for all workers.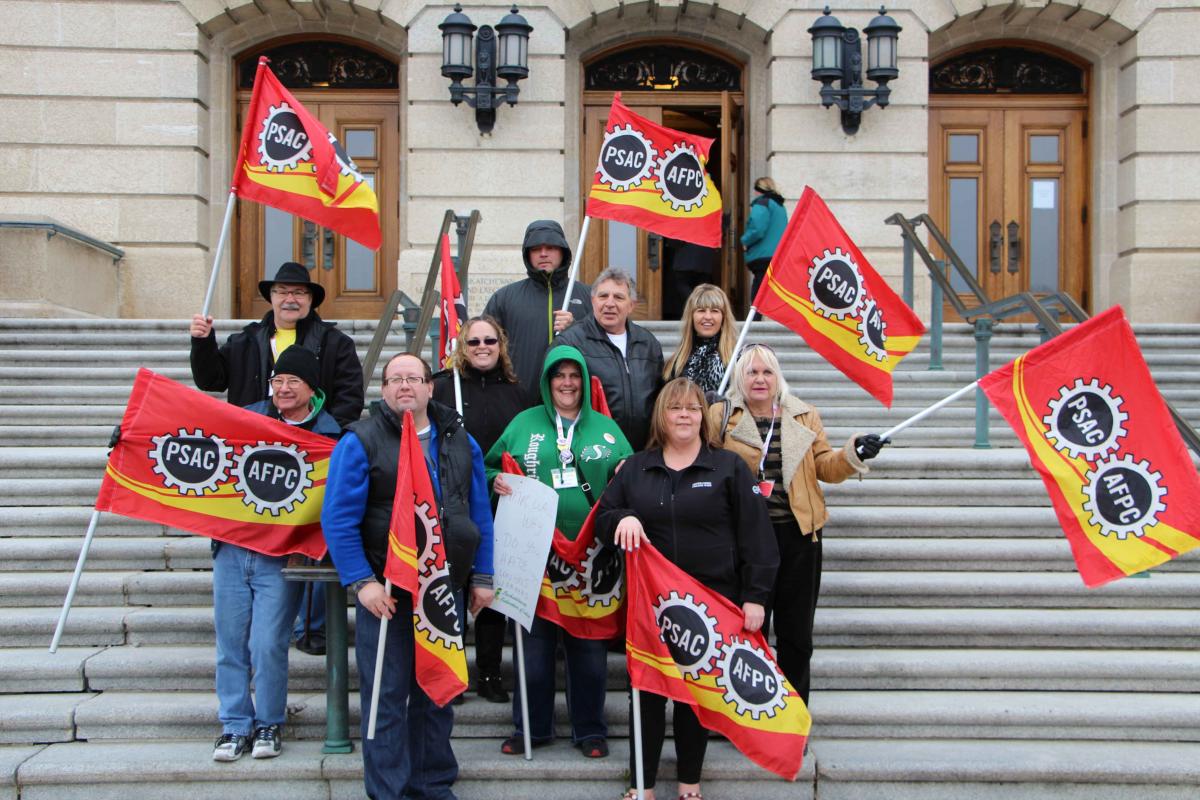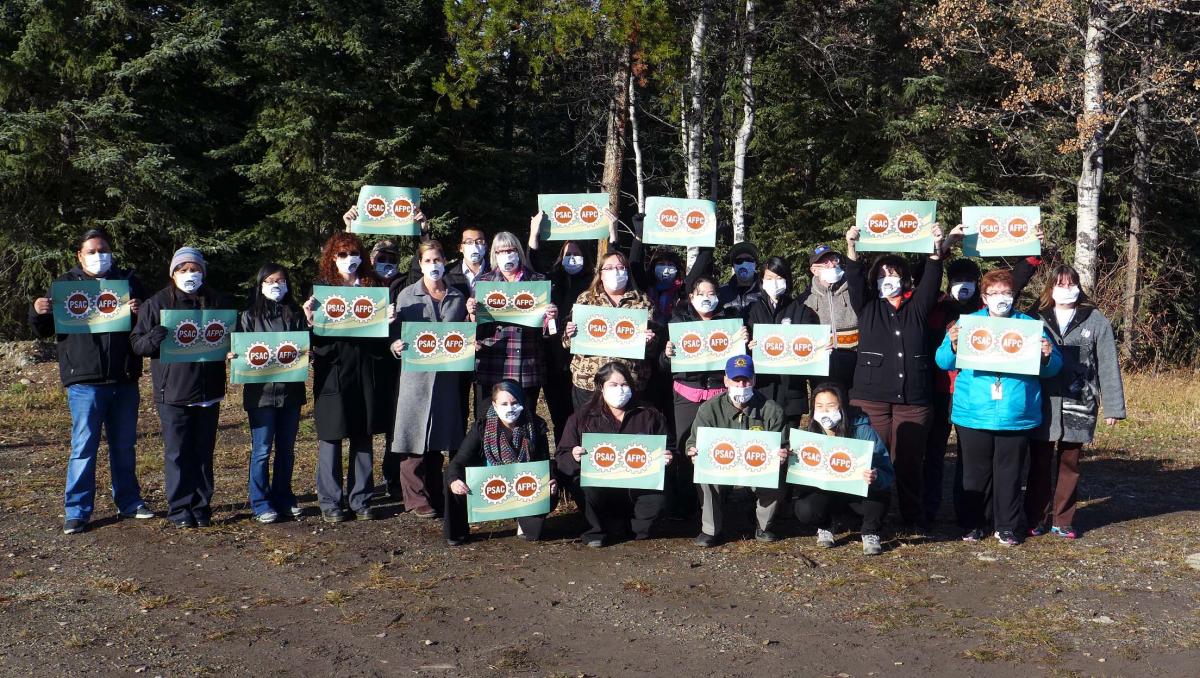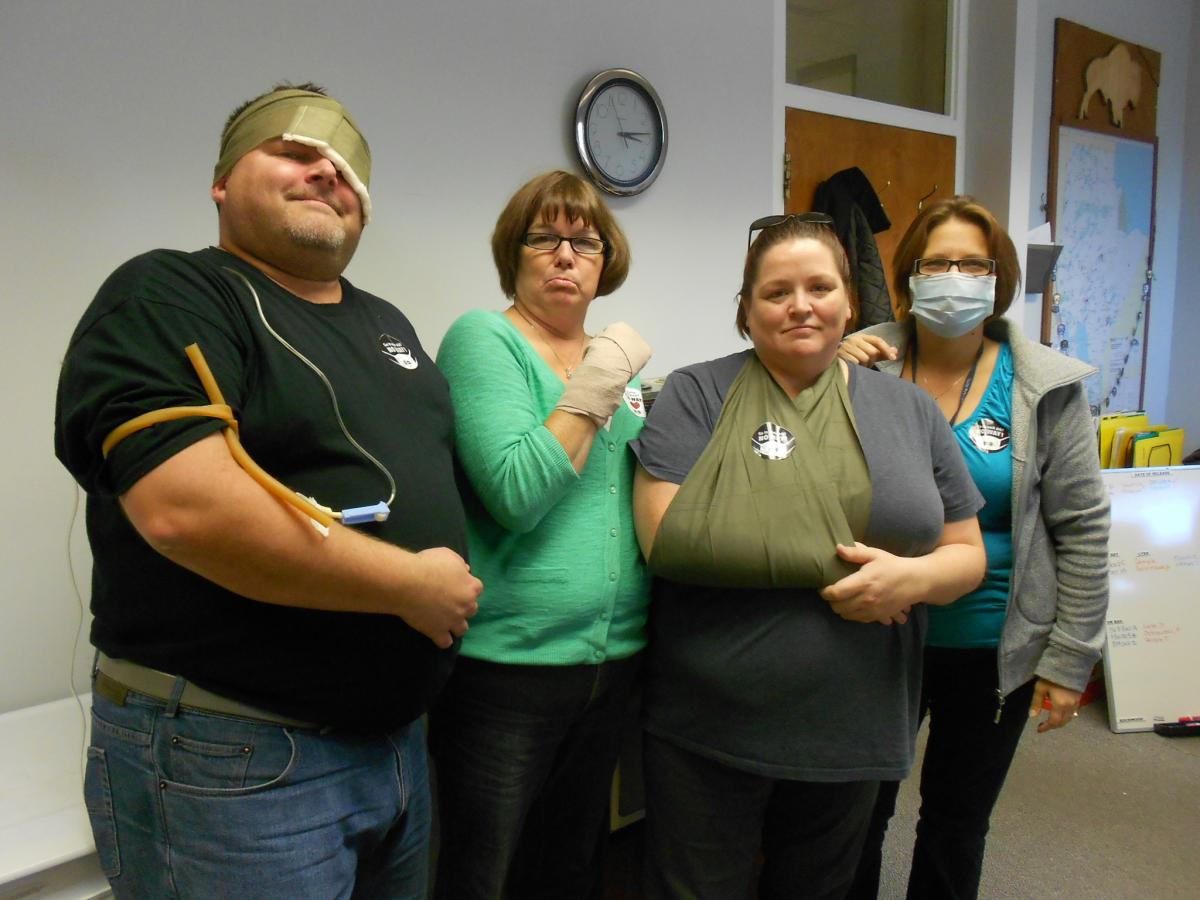 British Columbia
A membership appreciation and bargaining solidarity event was held at the Harbour Centre in Vancouver. Members were given a bag of "empty promises" from Stephen Harper and then went to the various stations where they had the opportunity to get treats and speak to Tracey Cochrane from the PA bargaining team and local PSAC leaders.
Approximately 150 members were given information about bargaining, sick leave and cuts to public services. Here is a video of Bob Jackson and Tracy Cochrane speaking at the event about workplace solidarity and political action. The Metro Vancouver Regional Council coordinators assisted in the organization of this event. More pictures of the event can be found here.