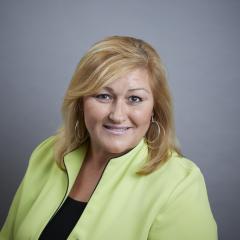 Magali Picard is the Regional Executive Vice-President (REVP) for the Public Service Alliance of Canada in Quebec.
She chairs the PSAC Quebec Council, is Vice-President of the Fédération des travailleurs et travailleuses du Québec (FTQ) and a member of the FTQ Solidarity Fund Board of Directors.
At the regional level, organizing, education, political and social action, equity and women's programs, area councils, directly chartered locals and separate employers are under her purview.
Prior to being elected as REVP, Magali had served as Alternate Vice-President of PSAC-Québec since the 2008 PSAC-Quebec Convention. Regional political action was her primary responsibility. As well, she was part of the 2006, 2009 and 2012 PSAC National Convention Finance Committee. In 2015, Magali chaired the Collective Bargaining Committee. She is a proud member of the National Aboriginal Peoples' Network.
From 1998 to 2005, Magali was active in her UVAE local where she held several positions. She also served as UVAE National Vice-President, Québec Region from 2005 to 2012.