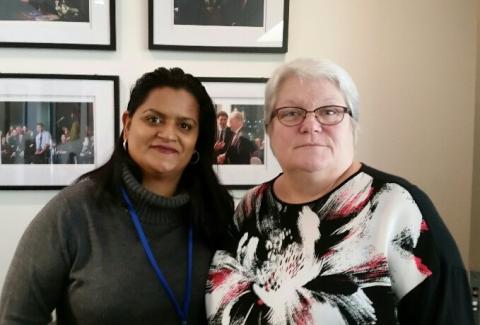 PSAC National President Robyn Benson and Ontario Regional Executive Vice-President Sharon DeSousa are at the United Nations in New York to press world leaders, including the Canadian government, to live up to their international legal obligations with respect to gender equality.
The governments are attending the 61st annual session of the Commission on the Status of Women (UNCSW61) and this year the major point of discussion is women's economic status in the changing world of work.
Rights of women workers are at the top of the agenda
"This year's UNCSW meetings are especially relevant to members of the PSAC because the rights of women workers are at the top of the agenda," explained Benson. We are here as part of a large global delegation of union women determined to win greater protections so badly needed given the dramatic rise in precarious work, and the growing de-unionization of the labour force."
More than 9,000 women are at the session attending hundreds of workshops alongside the official UN meetings.
"The UNCSW61 gives us a chance to learn from women activists inside and outside unions, and to develop common strategies to tackle the growing gaps in equality," said Sharon DeSousa.
"We have to do more to address the horrendous hardships that women workers are enduring as a result of worsening exploitation including modern day slavery in which tens of millions of adults and children are entrapped, the majority of whom are women and girls," De Sousa added.
"On the one hand, it is discouraging how serious the problems facing women workers are around the world. On the other hand, it is inspiring to hear of the incredible progress women have made in some parts of the world on issues we are still working on." added Benson.
Child Care part of discussions
The Nordic countries are way ahead of Canada when it comes to access to affordable high-quality child care and they have proven that good universal programs are enormously beneficial to women, children, families and the economy.
For forty years, PSAC has worked with the broader child care movement to fight for a universal, high-quality child care system for Canada. Along with the Child Care Advocacy Association of Canada and others, we are pushing the federal government to take leadership and build a quality, affordable child care system that all families can access wherever they live.
The work of the trade union delegation to UNCSW61 can be followed on Public Services International's blog and Twitter #UNCSW61.