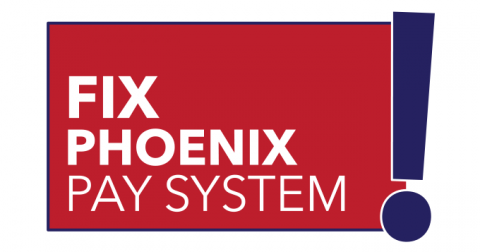 The federal government has announced a new plan to deal with the failed Phoenix pay system. The plan includes a new task force of senior ministers in the government. 
"Our members have been dealing with the consequences of the Phoenix debacle for over a year. What they need is more concrete action on the government's part," said Robyn Benson, PSAC National President. "This government has even given up on setting a target date to fix Phoenix."
Concrete action is needed to address Phoenix problems
To get closer to a permanent fix, PSAC demands that the government:
Hire more staff at the pay centre in Miramichi and make sure this is stable.
Hire permanent, not temporary, staff at the call centres who have the training and support to help our members.
Make a commitment to keep the satellite pay centres open permanently.
The government must spend whatever money is needed to fix the system.
Government's new plan falls short
The government's plan will include:
$70 million per year for the next two years to help departments deal with Phoenix-related problems. This is not new money. It represents what the government was supposed to have saved by implementing Phoenix. PSAC had asked for the 2017 Federal Budget to include an additional $75 million per year for departments and agencies.
Up to $200 for employees who had to hire an accountant, or incurred fees because of tax-related problems. We had asked for this type of reimbursement. However, we are concerned that $200 per employee will be likely insufficient in many cases.
A new Ministerial Working Group on Phoenix, to include Public Safety Minister Ralph Goodale, Finance Minister Bill Morneau, Treasury Board President Scott Brison, Environment Minister Catherine McKenna, Natural Resources Minister Jim Carr, and Steven MacKinnon, the parliamentary secretary for Public Services and Procurement. PSAC has lobbied Ministers and requested the Clerk of the Privy Council to become more involved with Phoenix, as more resources are needed. 
The new plan does not address our other demands, namely for the government to compensate affected employees for damages, and to compensate them for lost interest due to delay in receiving pay.
For more information on Phoenix see psacunion.ca/fix-phoenix