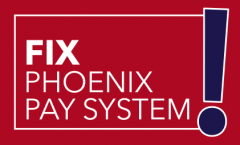 The federal government has confirmed it will not meet its October 31 deadline to clear the backlog of 80,000 cases that had accumulated as of June, due to the problems caused by the implementation of the Phoenix pay system.
30,000 outstanding cases
Marie Lemay, the Deputy Minister of Public Services and Procurement, made this announcement in a media briefing yesterday. In June, the government revealed that more than 80,000 people were being paid incorrectly – or not at all. There are still more than 30,000 unresolved cases outstanding.
"We are disappointed that workers are still waiting to have their problems addressed," said Chris Aylward, National Executive Vice-President of PSAC. "We expressed concerns about the government being able to meet the deadline, and asked them to be realistic. While they have finally admitted it won't be resolved, there is still a lot of information they still need to disclose."
Still waiting for post-June numbers
The 80,000 case backlog does not include any problems that were reported after June. PSAC is concerned by the government's unwillingness to be more forthcoming with this information.
Impact on public service workers
In addition, there are unresolved issues that continue to plague the pay system and adversely affect public service workers. This includes the 100 per cent recovery of Phoenix related over-payments that numerous PSAC members reported from this pay day. This contradicts the commitments that government officials made regarding over-payment recovery.  
Many public service workers have struggled to pay mortgages, rent, and other crucial expenses due to Phoenix pay errors. PSAC warned the government as early as February that it needed to delay implementation of the pay system because workers were already starting to see major problems.
"Our members in the pay centres are working hard and doing the best they can with the resources available. It's time for the government to start listening to workers who are trying to solve these problems," said Aylward.