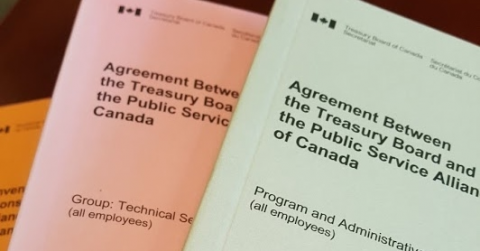 The Public Service Alliance of Canada is asking the Federal Public Service Labour Relations and Employment Board to declare that the federal government has failed to meet the implementation deadline for the PA, SV, TC and EB collective agreements and has violated its obligations under the law and the collective agreements.
PSAC is asking the Board to:
Issue a declaration that the government has violated the act.
 
Order the government to provide a timeline for when it will complete implementation of the collective agreements. 
 
Order the government to come to the table and negotiate damages for PSAC members covered by these agreements.

If, after two months, these negotiations do not yield an agreement on damages, PSAC is asking the Board to intervene.
PSAC filed an implementation complaint in early November, on behalf of the over 100,000 workers covered by these four agreements, after Treasury Board officials openly confirmed they would not meet the 150-day deadline. This admission confirmed PSAC's long-held suspicion that Phoenix would derail implementation.
The Board is scheduled to meet with PSAC and the federal government on January 31, 2018. PSAC will continue to keep its members updated on developments.