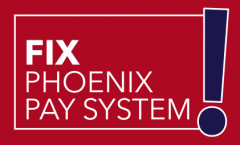 As the deadline to clear the 80,000 case backlog passes, public sector workers are left with more questions than answers about the Phoenix pay system. While the government acknowledged earlier this month that they would not meet the October 31 deadline, it is unacceptable that a clear plan to fix Phoenix has yet to be articulated.
"The lack of information is frustrating. It is frustrating for those not getting paid correctly or on time, and it is concerning for those workers who haven't had any pay issues but fear that it may still happen to them," said Chris Aylward, PSAC National Executive Vice President. "There is no confidence in the pay system and the lack of a clear plan is only making it worse."  
Update from government briefing  
Deputy Minister Marie Lemay stated that approximately 25 percent of the backlog – 22,000 cases – has not been cleared.
The government says it is hoping to resolve all issues by the end of the fiscal year but cannot provide a clear plan.
The remaining 25 percent of the backlog only includes those cases reported before July. The government has provided no information about the number of cases that have amassed since then.
PSAC members across country call on Trudeau to keep his word
Today, PSAC members across the country reminded Prime Minister Trudeau to make good on his word to respect public services and the people who provide them. That includes fixing the Phoenix pay system.