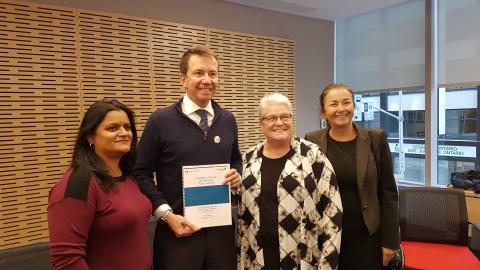 The Joint Union/Management TBS Task Force on Diversity and Inclusion released its final report.
The Task Force had a one-year mandate to define, establish the case, and make recommendations towards a framework and action plan to improve  diversity and inclusion in Canada's public service.
Diversity and inclusion, along with strong employment equity initiatives, are critical to removing systemic barriers and having a workplace that is respectful and free of discrimination and harassment.
The Task Force  identified four key elements  necessary for ensuring a diverse and inclusive workplace which include increased transparency and fairness in people management and staffing processes; better accountability of deputy heads in central agencies and departments; education and awareness training of diversity and inclusion for federal public service workers; and a tool that provides a diversity and inclusion lens.  There are 44 recommendations dealing with these issues in the report.
The full implementation of recommendations will result in a significant culture shift in Canada's public service toward a more diverse, inclusive and innovative workforce and workplace.
The federal government must implement these recommendations as quickly as possible so that the federal public service can continue to be one of the best public services in the world.