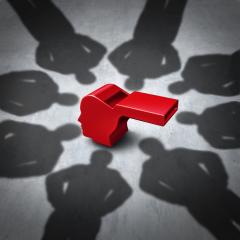 The Public Servants Disclosure Protection Act fails to protect whistleblowers from reprisals, and is incapable of punishing those who retaliate against whistleblowers for coming forward.
"Workers are reluctant to come forward, and when they do, they often experience great sacrifice in their personal and work lives," said PSAC Regional Executive Vice-President Larry Rousseau. "This sends a powerful message to others to remain silent."
Rousseau, appearing before the House of Commons Government Operations and Estimates Committee, testified that the current law severely restricts whistleblowers because the Integrity Commissioner is able to refuse to deal with disclosures based on a belief that the person is not acting in "good faith", or if the complaint is not in the "public interest" or for any other "valid reason".
The numbers show why the Act is not working. Between 2007 and 2015, only 10 of 623 disclosures were considered "founded". In the same time, only 10 out of 207 complaints of reprisals were referred to a Tribunal.
"These low rates are due in part to shortcomings in the Disclosure Act," said Rousseau. "They also suggest the Integrity Commissioner's office has not proven itself as trusted and independent. These failures matter because they help foster an unhealthy and ineffective culture of silence in the federal public service."
Recommendations to improve the Disclosure Protection Act
PSAC's recommendations for improvement include:
Making the investigative process more fair and transparent
Putting the onus on those who retaliate against whistleblowers to prove they did not do so
Expanding the time for whistleblowers to report retaliation
Providing more funds for legal assistance for whistleblowers who suffer retaliation
Permitting whistleblowing about misconduct involving the private sector and government
Improving the provisions for sanctions and corrective action against those who retaliate against whistleblowers
► Read the PSAC submissions to House of Commons Standing Committee on Government Operations and Estimates regarding The Public Servants Disclosure Protection Act.