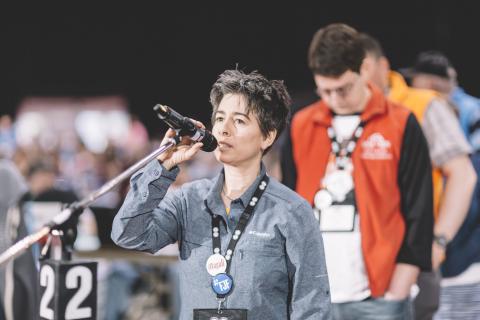 PSAC embarks on Indigenous awareness training
Our union has many Indigenous members and values meaningful reconciliation with Canada's Indigenous peoples. Following this convention, PSAC will develop, deliver, and properly fund ongoing Indigenous awareness training. The training will be designed to give the union's leadership and members a better understanding of the legacy and impact of residential schools, the 60's scoop and 150 years of assimilation policy.
The unanimous convention decision supports the Truth and Reconciliation's Commission's Call to Action #57 that calls for education on the history of Aboriginal peoples, the United Nations Declaration on the Rights of Indigenous Peoples, Treaties and Aboriginal rights, Indigenous law, and Aboriginal-Crown relations.
The fight against contracting out and privatization is ongoing
Delegates agreed to continue the fightback against the privatization of federal, provincial and territorial public service jobs and the use of private-public partnerships (P3s). Governments continue to privatize and contract out public services. P3s are risky and expensive and there is overwhelming evidence that shows these ventures are not in the public interest.
Delegates debate online voting
Alternative options, such as online voting, will now be offered to members who cannot attend ratification votes in person. Nevertheless, delegates also reinforced the importance of members attending ratification meetings whenever possible to ensure they receive accurate information and have an opportunity to have their questions answered.
Legal support expanded for members with peace and police officer duties
Legal representation for peace and police officers has been broadened to include situations when peace and police officer members use force under the Criminal Code of Canada or under another Act of Parliament in the course of their duties. The 2015 convention had agreed to provide legal counsel available on-call 24 hours a day to officers when they have discharged a firearm in the course of their duties.