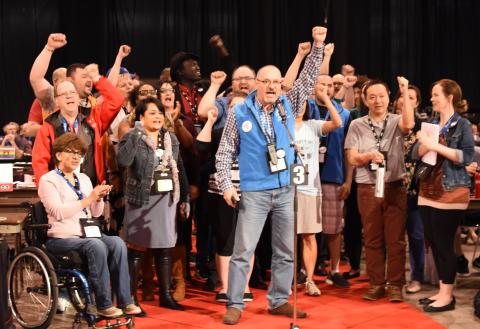 PSAC's convention unanimously delivered a strong message to the federal government: it must be held accountable for the profound and unacceptable injustices its employees have been subjected to as a result of the Phoenix pay system.
Delegates spoke of the personal hardships they have suffered and the impact on the members who are working to provide accurate pay using a broken system.
The policy statement reinforces PSAC's commitment to
escalate action to get fairness and respect for our members who have suffered the impact of the Phoenix pay system for too long
explore every legal avenue to hold the government accountable
take direct action to maintain the pressure on the federal government to act
hold Members of Parliament accountable in the 2019 federal election
take our message directly to Canadians
PSAC has demands
The union is demanding
damages for the impact of Phoenix
fair treatment by the tax system for those who have been overpaid
paid leave and reimbursement of sick leave due to Phoenix
more and permanent compensation workers
adequate funds for emergency and priority payments
a new pay system that works
extensive consultation and publicly reported testing of any future technological changes affecting pay and benefits
a public inquiry to find out how the Phoenix pay system failed so completely so that no other workers ever suffer the same fate.
Impact of Phoenix has been devastating
The Phoenix pay system is a national disgrace. The employer is not treating federal public service workers with dignity or respect. Members have lived through this nightmare for too long. The government isn't paying workers accurately and on time and adds insult to injury by making it too difficult to rectify pay problems that they are responsible for creating.
Dealing with Phoenix has been frustrating and stressful for all members. Phoenix has created many issues which continue to aggravate the mental health and well-being of members. It is unacceptable that some members are missing mortgage payments, going into debt and having their credit ratings destroyed because the Government of Canada can't find a way to pay its employees.
Compensation workers are doing everything they can, under enormous stress, to help public service workers get paid accurately. They are frustrated when they can't provide all the help that is needed.
The Phoenix pay system disaster did not happen by accident. The former Conservative government eliminated over seven hundred experienced Compensation Advisors positions – people who knew how the complicated federal payroll system worked. The current Liberal government went ahead with Phoenix, despite being warned by PSAC and others that it would result in the mess we are left with today.
Activists and leaders at all levels have been fighting back. In the streets and in the courts, the union has fought to hold this government accountable for the injustices caused by Phoenix. PSAC will not stop fighting until every single federal public service worker is paid what they are owed – and fully compensated for the damage done to their lives.
The Auditor General has said it may take several years to solve the problems of the Phoenix pay system. Our demands and actions will change and grow as long as our members are not getting paid what we are owed.
Our members deserve the pay and the respect they have earned.